In a dynamic convergence of industry visionaries, the ASSOCHAM (The Associated Chambers of Commerce & Industry of India) Goa Development Council orchestrated a high-powered conference on the Cold Chain sector, with a distinct emphasis on Infrastructure, Capacity Building, and Technology. The event, held on the 11th of August 2023, in the resplendent locale of Panjim, Goa, resonated as a formidable platform for stakeholders to navigate the trajectory of this burgeoning domain.
Setting the Stage: The Inauguration and Key Dignitaries
The conference was inaugurated with grandeur by the esteemed Hon'ble Minister of Industries, Shri. Mauvin Godinho is a towering figure in the realm of Goa's industrial landscape. A triumvirate of luminaries, including Smt. Swetika Sachan IAS, Director, Directorate of Industries, Trade & Commerce; CEO of IPB; and Shri. Pravimal Abhishek IAS, MD, and Goa IDC graced the proceedings as special guests. The pivotal moment of the inauguration saw the chief guest unveiling a knowledge paper titled "Cold Chain Revolution: Transforming Goa into a Distribution Hub." This paper, a collaborative creation between the ASSOCHAM Goa Council and the distinguished team from Grant Thornton, held the promise of illuminating pathways for the metamorphosis of Goa's economic landscape.
An Unswerving Focus on the Future: The Conference's Purpose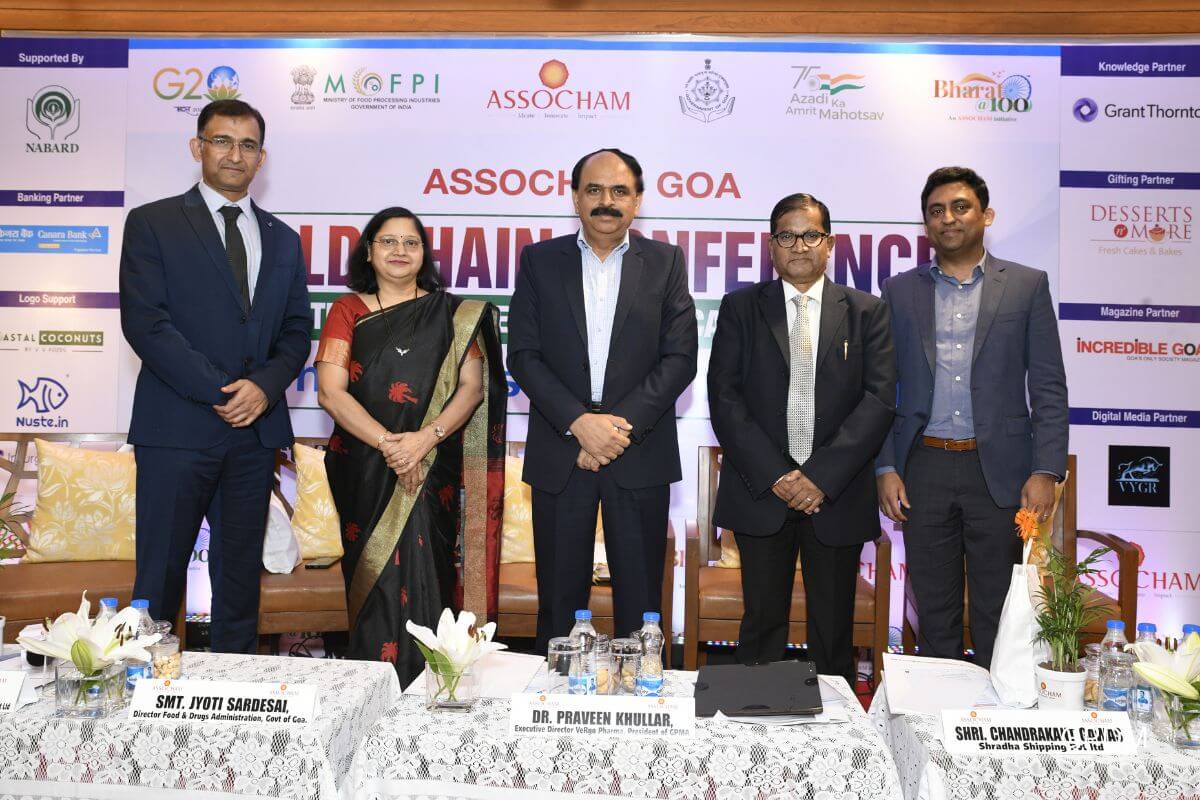 At the heart of this convocation lay a formidable objective—to deliberate, dissect, and decode strategies, challenges, and an actionable roadmap to invigorate the Cold Chain sector's growth. The focus extended beyond the frigid logistics corridors; it encompassed the entire spectrum of agriculture, fisheries, food processing, pharmaceuticals, healthcare, and chemical industries that together form the tapestry of Goa's economic vibrancy.
Voices of Eminence: Insights and Visions
Shri Mauvin Godinho, with his august presence, emphasised the indomitable significance of the Cold Chain sector. The mantle of ensuring food and medicinal safety, curbing wastage, and bolstering the shelf life of perishable products was vested in this sector. The Minister envisioned a meteoric rise in the industry's fortunes, an outlook underpinned by the sector's critical role and its impending growth.
Shri. Manguriish Pai Raikar, Chairman of ASSOCHAM Goa Council, underscored Goa's intrinsic advantage—a confluence of air, sea, and land connectivity within a 10-kilometre radius. The RoRo (Roll-on/Roll-off) service of railways stood as a testament to Goa's strategic trade positioning. However, the call to action resided in harnessing this potential through investments in the cold chain, warehousing, and logistical avenues. A clarion call was sounded, positioning Goa as a potent trade hub of the future.
Pioneering Collaborations: A Tapestry of Expertise
The conference resonated as a canvas painted with wisdom and foresight. Eminent panellists from diverse sectors lent their voices to the discourse. IDC's vision, represented by Shri Pravimal Abhishek IAS, mapped the pathway toward enhancing cold chain and warehousing infrastructure. Swetika Sachan IAS, Director of DITC, Government of Goa, unveiled the contours of Goa's Logistics and Warehousing Policy 2023—a roadmap that held promise for a transformed industrial ecosystem.
A Melange of Perspectives: Collaborative Momentum
Smt Sulfath H, a senior manager in MSME Sulakbh, and Shri Ramakrishna, Divisional Manager of Canara Bank, encapsulated the dire need for agility in cold chain supplies. Dr Milind Bhirud from Nabard Goa and R Ganesh, regional head of Canara Bank, further enriched the discourse.
An Epiphany of Progress: The Knowledge Paper's Revelation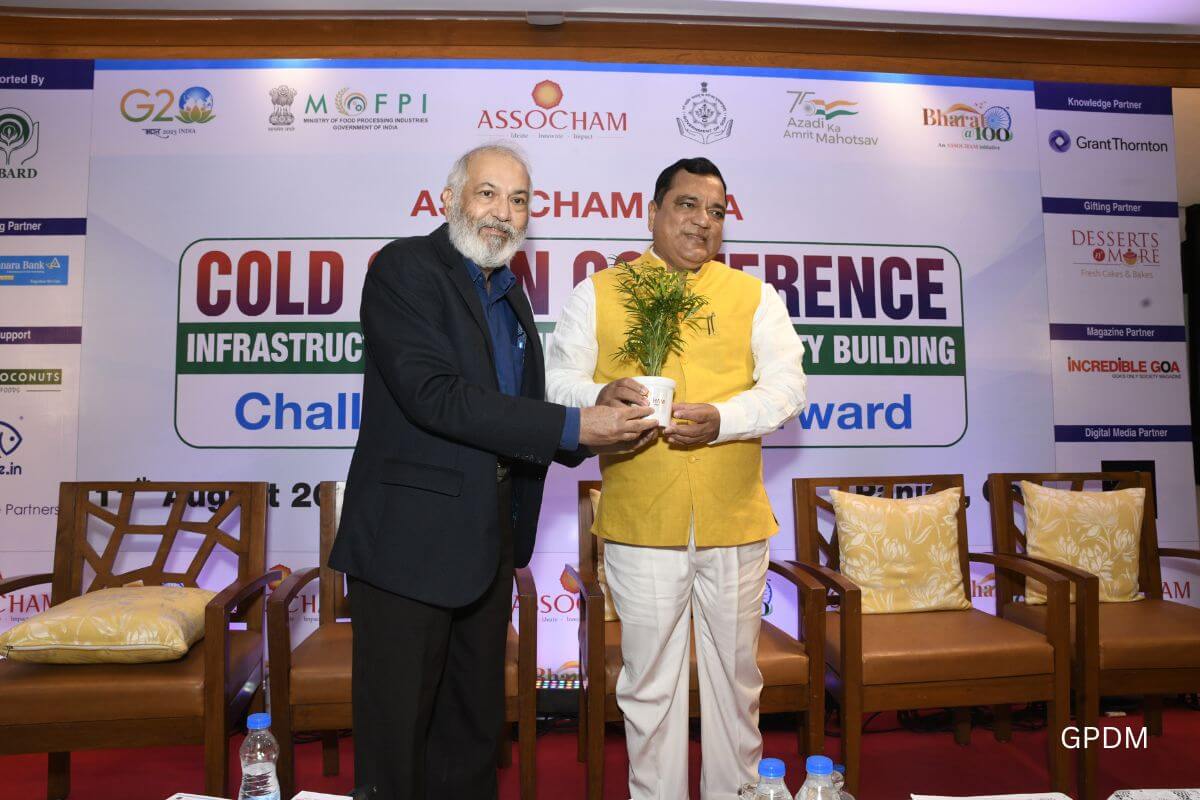 The crowning jewel of the conference was unveiling the knowledge paper, "Cold Chain Revolution 2.0: Transforming Goa into a Distribution Hub." Hon Minister Shri Mauvin Godinho lent his auspicious hand to this momentous occasion. The knowledge partner, Grant Thornton, was personified by Chetan Bhakkad, a partner, and his erudite team. The paper held within its pages a blueprint for a metamorphosis that beckoned Goa into a redefined future.
Unity in Vision: The Panellists' Resonance
A constellation of esteemed panellists adorned the conference—Jyoti Sardesai, director of FDA; Dr Praveen Khullar, GPMA president; Shri Chandrakant Gawas of Shraddha Shipping Pvt Ltd; Parixit Pai Fondekar from Kamaxi Group; Aftab Mohammed, founder of Nuste.in; Dr Suresh Kunkoliekar, Principal of Goa College of Agriculture; and Tanuj Guliani, Associate Director of Grant Thornton. Their insights, like mosaic tiles, shaped the narrative of the conference.
A Confluence of Minds: Powering Progress
The event was a resounding success, drawing together luminaries from the Cold Chain, logistics and warehousing industries, technology sectors, educational institutions, pharmaceuticals, agriculture, allied industries, government officials, and enterprising startups. The charismatic Sonam Bhagat, Founder of Vygr, adeptly steered the conference, amplifying its impact.
The Resounding Echo: A Future Emboldened
In the aftermath of this conference, the corridors of the Cold Chain sector in Goa resonate with promise, innovation, and collaborative zeal. The dialogue sparked during this gathering shall reverberate as an impetus for transformation—a beacon guiding Goa toward becoming a pulsating hub of economic dynamism, where the chill of the Cold Chain intertwines seamlessly with the heat of progress.
Panel Discussion: Preinaugural session
Topic: "Strengthening the Agriculture & Allied sector with sophisticated Infrastructure facilities for robust growth".
Discussion of Issues & way forwards.
Session Moderator
Smt. Pallavi Salgaocar
Chairwomen, Empowerment ASSOCHAM Goa Council
Panellist:
Shri Parixit Pai Fondekar
Founder, Kamaxi Group
Shri Aftab Mohammed
Founder, Nuste.in
Dr Suresh Kunkalikar
Principal, Goa College of Agriculture
Shri Tanuj Guliani
Associate Director,
Grant Thornton Bharat LLP
Special Guest: Shri Pravimal Abhishek, IAS MD, IDC Goa
INNAUGRAL SESSION
Shri Mangurish Pai Raikar
Chairman, ASSOCHAM Goa State Council – ;provided welcome address
Shri Mauvin Godinho Hon'ble Minister for Industries
Government of Goa as the chief guest.
Dr. Milind R Bhirud
CGM, NABARD, GOA Regional Office
Shri R. Ganesh
Regional Head, Canara Bank – Goa
Shri Chetan Bhakkad
Partner, Public Sector Consulting,
Grant Thornton Bharat LLP
Topic : "COLD CHAIN REVOLUTION: transforming Goa into distribution hub".
Smt. Pallavi Sagar Salgaocar
(On behalf of Dr. Sagar Salgaocar
Co-chair ASSOCHAM Goa Council & ASSOCHAM Goa Team)
POST INAUGRAL SESSION
Smt. Swetika Sachan, IAS
Director, Directorate of Industries Trade &
Commerce, Government of Goa
Special Highlight: Goa Logistic & Warehousing Policy 2023
State Government Perspective
Smt. Sulfath H.
Senior Manager MSME Sulabh, Goa
Canara Bank, Goa Region
(Infrastructure Financing to strengthen the Cold chain logistics
& warehousing facilities across the state & other applicable
financial inclusions under Atma Nirbhar Bharat Abhiyan
Shri Harshad Kanvinde
Founder & MD Insurge Partners.
Mumbai – Maharashtra
(Need for Agility in Cold supply chain & strategies thereon)
PANEL DISCUSSION (last session)
Topic: "Enhancing pharma sector by technology innovations.
& robust cold chain: Challenges & Emerging Solutions"
Session Moderator
Dr. Sagar Salgaocar
Co-Chairman, ASSOCHAM Goa Council
MD Geno Pharmaceuticals Pvt. Ltd.
Panellist
Smt. Jyoti Sardesai
Director, Food & Drugs Administration, Govt of Goa
Dr. Praveen Khullar
Executive Director, VeRgo Pharma, President of GPMA
Shri Harshad Kanvinde,
Founder & MD, Insurge Partners
Shri Chandrakant Gawas
Shradha Shipping Pvt. Ltd.
For more information and inquiries, please contact:
Phone: +91 98230 10307*