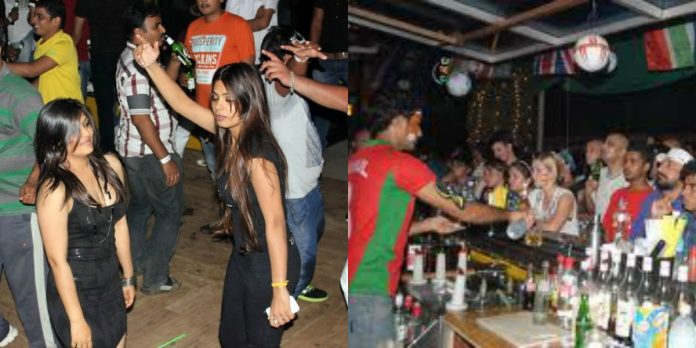 Known for its hip nightlife, Goa's bars and clubs are suffering losses because of the current General Election's Code of Conduct and by-polls in the 4 constituencies. The 11 pm curfew is making the lights go dim in the pubs and clubs giving it an eerie, empty feel across the most happening coastal state of India. 
The pub and club owners display signboards to state that last orders will be at 10.30pm and that the venue will close by 11 pm. They are showing guests the way outpost 11 pm to maintain the code procedure. Can you imagine, it is just 11 pm and normally the party is about to begin, but right now the life in the Goa's nightclubs come to halt. 
While the season comes to a close, Goa is preparing for Easter but some people don't know whether it's the election they're honouring or the festival itself!
Goa attracts a large number of tourists during the Christmas and Easter festivals but this time dry days may hamper celebrations due to forthcoming by-polls in the state. 
"Because of strict warnings by the excise department and police, most places have started serving the last drink at 10.30pm, though they're allowed to serve alcohol till 11 pm. Nobody wants to have their licenses suspended," said one of the tourism stakeholders from South Goa.     
According to sources, it is not just the nightclubs and bars that are losing business in the state but even the ones who are dependent on them like musicians, DJs, small stalls that serve food all night and even taxi operators have been affected. "Tourists have stopped moving around at night," says a taxi owner.     
Shack Owner's Welfare Society General Secretary John Lobo had quoted that there is an urgent need to relook at restrictions placed on the tourist destinations like Goa. "What do tourists have to do with elections?" he asked.  
Mr. Lobo continued, saying that the people sitting in Delhi do not understand the culture of Goa. It is one of the most popular tourist destinations in the country and the famous coastal belts like Calangute and Candolim is always filled with tourists.
"The shacks and bars situated on the coastal belts attract 99% tourists, and there are hardly any locals and hence stopping the sale of alcohol after 11 pm is not justified. Tourists are simply buying liquor and drinking in their rooms," says Lobo. 
The code of conduct is not only affecting the business but it is also making the survival of the workers very difficult. "We have employees. How do we sustain ourselves? We have to pay for their salaries. Standalone businesses that have high operating costs should be exempted," says Furtado. 
Another stakeholder, who is an event organizer by profession, claims that police are harassing the owners of establishments situated in the coastal areas of Goa by entering after 10 pm to start recording activities.      
"After 10 pm, police come to establishments that operate out of high rent premises and start recording. People come to Goa to have a good time. During the day they visit the beach and take a nap in the afternoon and evening. They wake up at 9 pm and then go out to party. But now they cannot party late," says Oliveira.
According to the former president of TTAG (Travel and Tourism Association of Goa) Mr. Francisco de Braganca, these rules have created a negative perception of the state. Mr. Braganca feels that there is a need to relook at imposing curfews in places where the literacy and per capita income is above average.
"In states like Goa, a voter cannot be induced with alcohol and an exemption can be made under these parameters," he says.    
Deputy speaker and Calangute MLA Michael Lobo, who owns a couple of 24×7 bars and restaurants, also reckons that there should be a way out.
"For the sake of tourism, we must declare certain areas as 'special zones', where everything is open all the time, as has been proposed at Mopa," he says.
Everyone here has a single concern: the survival of the tourism business during the code of conduct period.  
IMAGE SOURCE: GO BANANA | THRILLOPHILIA