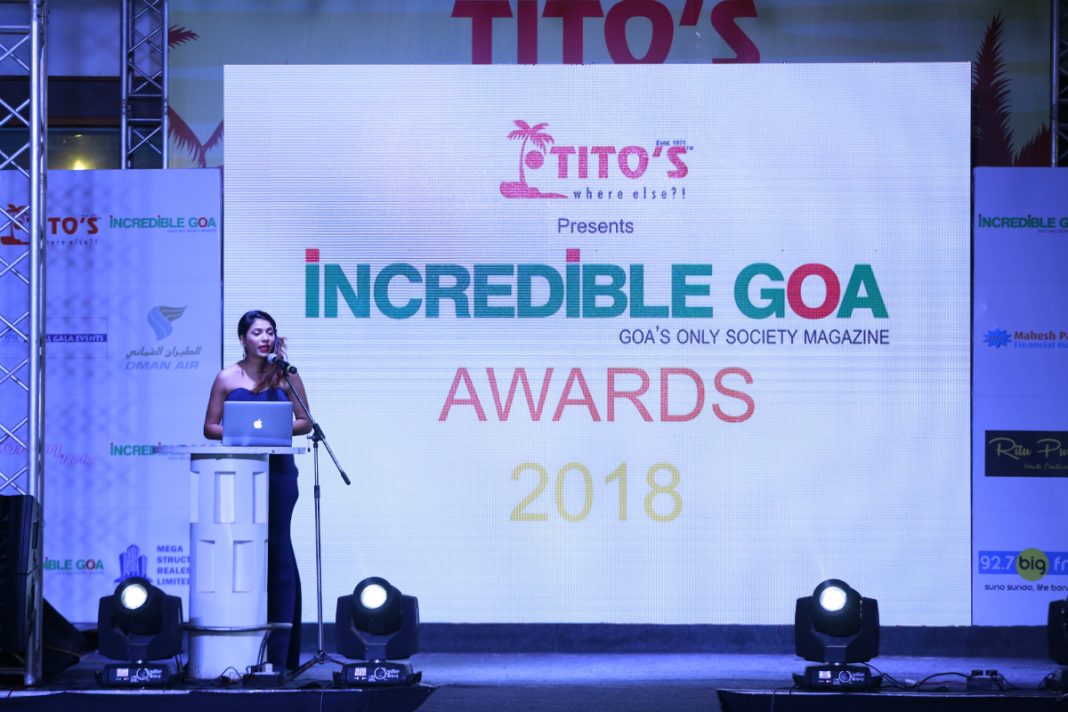 Incredible Goa Magazine – Goa's very own society magazine captures the essence of Goa. We at Incredible Goa diligently work towards bringing into the spotlight the true spirit of Goa and its people. Incredible Goa magazine found the opportunity to organise an exclusive Awards Night on April 21st, 2018 at the Golden Mile of Goa – The Tito's.
The main aim of the awards was to acknowledge the work of Goans in various fields of specialisation, especially the ones who have been silently contributing to the society without being recognised for it.
The Gala Night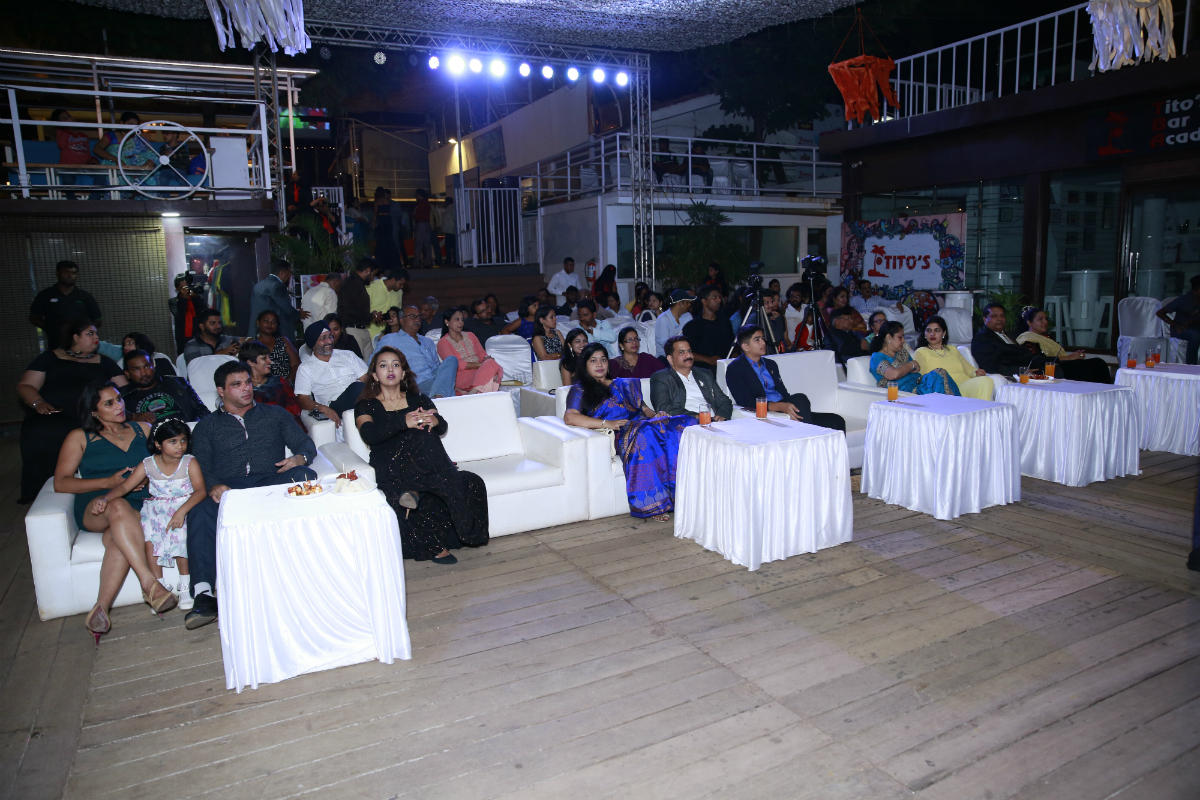 The evening was absolutely mesmerising. It began with a big bang, at one of the most upbeat venues in Goa – The Tito's.
Being the Golden Mile of Goa, it was buzzing with music and light and people thronged to the venue to get a glimpse of their favourite celebrities who were present there, like singer/actor Ester Noronha, Goa's star actor Kevin D'mello and Femina Miss India-Goa Audrey D'silva, to name a few.
We had the honour of having Mr Shekhar Mital, Chairman and Managing Director of Goa Shipyard Ltd., as the Chief Guest for the night. He inaugurated the event with the lighting of the candles, which was followed by 'Ganesh Vandana' performed by a group of Bharatanatyam dancers.
The Award Ceremony
The Incredible Goa Awards 2018 was organised on a grand scale to provide a significant platform to the achievers of Goa. The "who's who" of the Goan high-society – from prominent celebrities who have given a big name to Goa; to distinguished people from the field of business, fashion, films, and well-known faces from the performing arts industry were present.
The awards categories and the nomination were prepared in close consultation with an esteemed panel of judges. These categories highlighted the core potential of the talent involved and the promising future of the participants.
The main award categories for the event were – Women Empowerment, Business, Goan Talent, Young Goa, Trendsetters, Excellence in Fashion, Excellence in Fitness, Excellence in Hospitality, and Lifetime Achievement (Business).
The Chief Guest
We had the pleasure of having Mr. Shekhar Mital, Chairman and Managing Director of Goa Shipyard Ltd. as the chief guest for the evening. He inaugurated the event by the auspicious lighting of the Candles. He gave away the awards to the achievers in the category of Business.
A down to earth and a thorough gentleman, Mr Shekhar Mital has changed the face and destiny of the shipping industry in Goa. His leadership skills and years of experience has helped in making GSL the most profitable and successfully run organisation in Goa, serving the Indian Navy and the shipping industry of India with utmost superior services. With a lineage of gallantry achievements in many facets of shipbuilding, practical ground realities of seafaring, and on sea experience, Mr Mital garnered his expertise by working with highly plausible and reputed organisations such as the India Navy, and also served as CSO (Tech) of the Eastern Naval Command. Mr Mital is the recipient of the Nausena Medal (NM), which was awarded by the President of India, for his distinguished service in the Indian Navy.
The Champions of the Evening
The award winners were a selected group of people who have worked against all odds and made their dream a reality. These people have not only made a place for themselves in their field of specialisation but have contributed generously towards the benefit of the society in their own way.
Here is a sneak peek of their achievements and journey to glory.
Tara Kerkar awarded Excellence in Social Services by Rajesh Ghadge for her incredible efforts in uplifting the women of Goa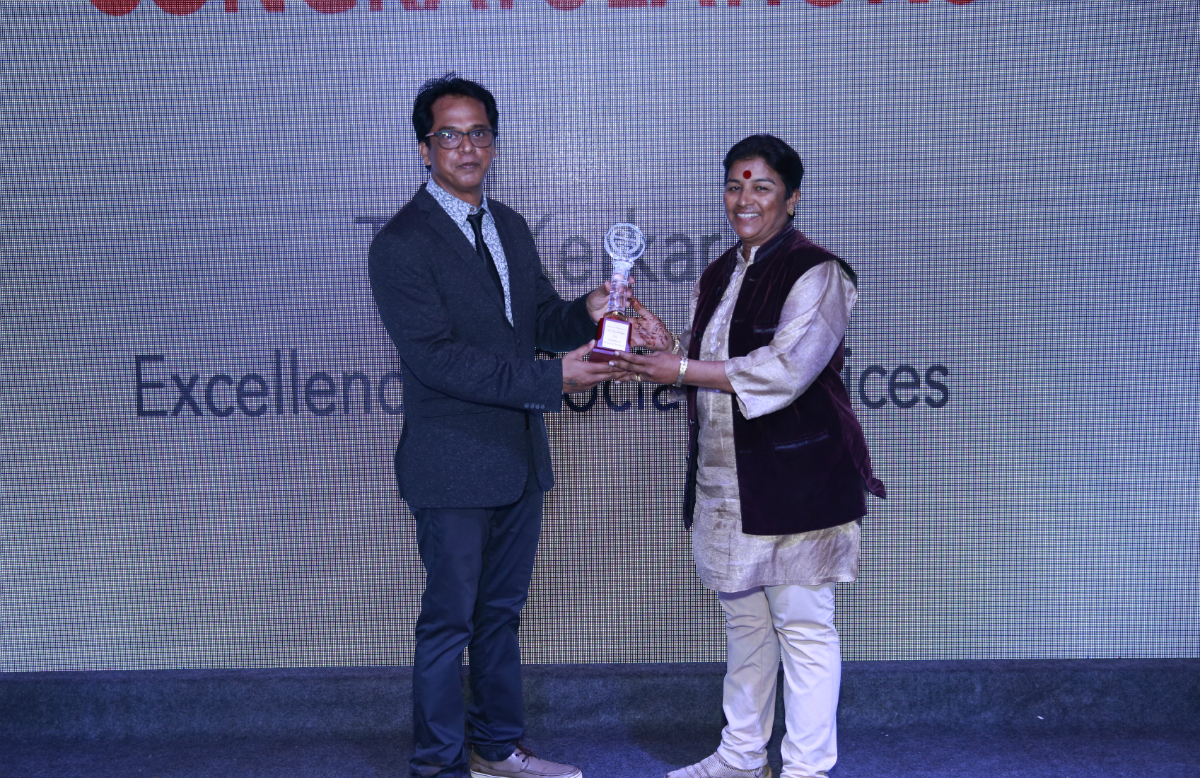 Tara, known as wonder woman has been working tirelessly towards women empowerment in the state of Goa. The unsurmountable struggle she faced as a woman was the main reason why she joined the women empowering social services bandwagon.
She stands for just one mission – to fight for the justice for women. Her work has been recognized by the government and is supported by them too. Tara runs an NGO by the name of 'Savera' which was instituted to support sex workers and help them in dealing with vulnerability and injustice. She is also called as the 'messiah' of women in Baina, bringing awareness and educating women in the red light area.
Her efforts to bring justice to women in Goa speak volumes about her diligence and fighting spirit towards empowerment of women.
Piyali Chatterjee awarded Excellence in Pet Care Services by Rajesh Ghadge for her dedication and selfless services towards animals
Piyali has dedicated her life towards grooming, healthcare and welfare of animals in Goa. Being in pet grooming profession for over a decade, she has aced in this area. Quitting the comforts of life and a high paying corporate job, Piyali decided to commit to a new mission in life – providing quality and compassionate care to animals.
A certified pet groomer and an animal lover, she opened Glam Petz – a unique standalone Pet Care and Pet Grooming Studio, 4 years ago. Her aim is to bridge the demand-supply gap in grooming services existing in Goa, making people aware of essentials of pet care, and attend to needs of all pet parents and their pets in Goa.
Morzenia Almeida Coutinho awarded Excellence in Hospitality by Rajesh Ghadge for her dedication toward Hospitality services in Goa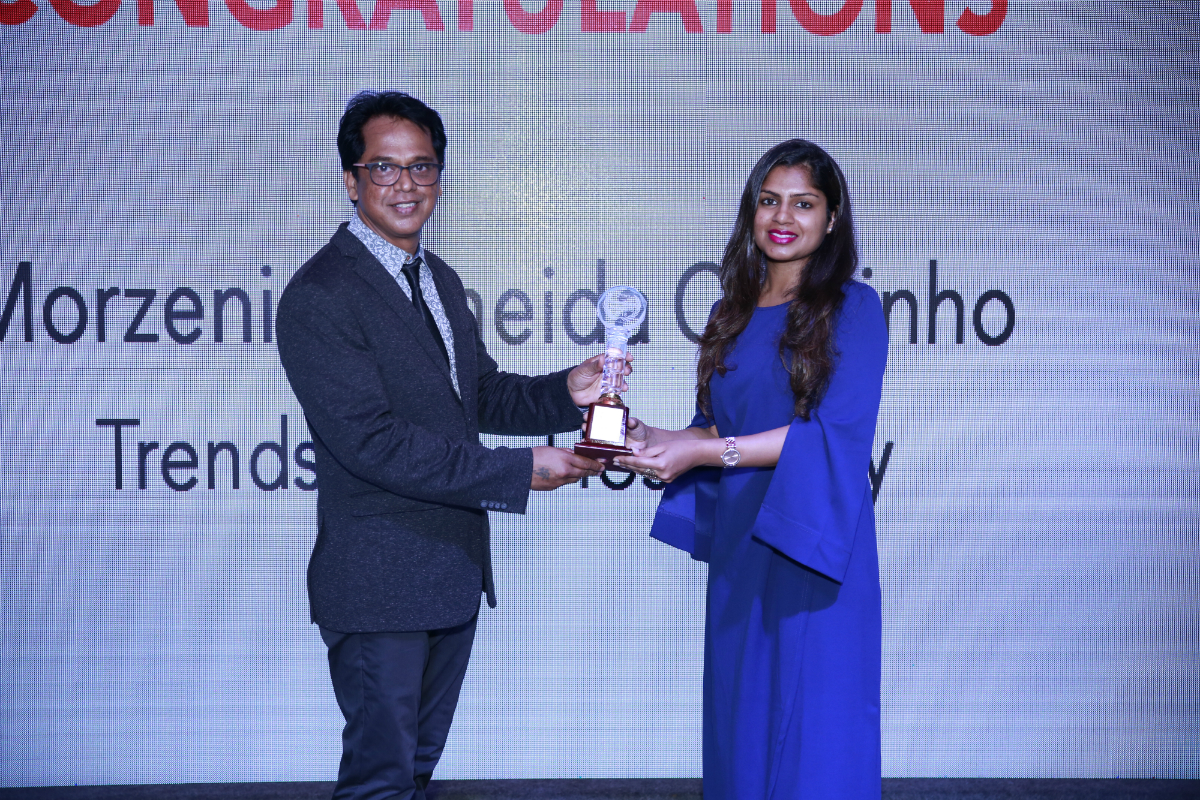 Morzenia is recognised in the hospitality arena of Goa and who has taken her family legacy forward. Her family is also well-recognised in the hospitality industry. With proficiency in Hotel Management and an MBA, she took on the responsibility of Longuinhos Beach Resort in Colva as the Director. Morzenia has been persistently working to add stars to the property, along with her sister Marsha, and brother Marzinho Almeida Coutinho.
She firmly believes that hard work, dedication and perseverance is the only road to success. She has experienced her share of her struggles as a young entrepreneur and surpassed them all. She is ambitious and dreams of excelling further.
Mahesh Pai was awarded Excellence in Financial Services Business by Mr Shekhar Mital, CMD of Goa Shipyard Ltd.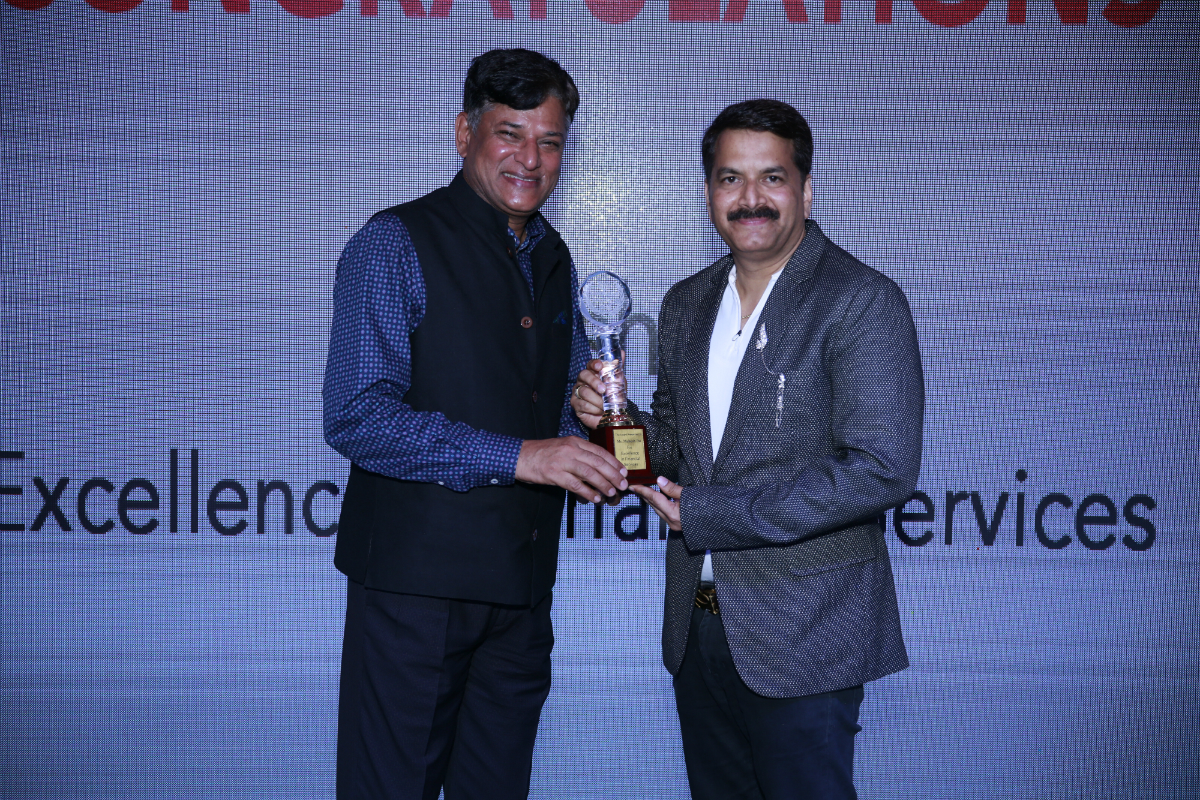 A financial advisor professional for over 23 years, Mr Mahesh Pai has been creating waves in the financial world. He is a member of the 'Million Dollar Round Table (MDRT) USA', having achieved highest label called 'Top of the Table (TOT)' in the financial business.
He has been acknowledged as a top performer by LIC of India and received a certificate in Financial Planning & Financial Services. He is also a Corporate Club Member, considered as the highest recognition by LIC of India. Mr Pai was recently awarded 'The Rising Leader of the Year (Financial Consultant)' at the APS Research ceremony held at Hard Rock Hotel in Goa, for his outstanding efforts towards achieving the business and financial goals of his clients.
He is also the recipient of the 'Outstanding Achievement Award for the Year 2017', for his company's noted contribution towards the mortgage business. Mr Pai's list of clientele is quite impressive and includes HNIs, NRIs and blue-chip companies from various business sectors; entrepreneurs, builders, resort owners, contractors, architects, doctors, CAs, and industrialists. 
Rajesh Dempo was awarded the Rising Star in Business by Mr Shekhar Mital for his incredible contribution to the business world.
Rajesh, a remarkable businessman, is the third generation entrepreneur from his well-known industrial family. A thorough gentleman and an eminent personality in his area of business, this entrepreneur has climbed the ladder of success through self-ignited determination and hard work.
He started working as a management trainee position and worked his way up to become Head Business Development Corporate Affairs at a firm of high repute in Goa. In 2006, he dived into his flagship venture called Vision Dempo Real Estate Developers.
Under his leadership, the Vision Dempo Group scaled great heights through a high level of quality standards and services par excellence. He has to his credit a number of accolades and recognitions like – Entrepreneurship Excellence Awards 2012 – Entrepreneur of the Year from Big Research, Business & Service Excellence Awards 2012 for Most Affordable Luxury Hotel in Goa from Big Research, and Most Promising Entrepreneur for Corporate Excellence 2012.
Suraj Morajkar was awarded the First Generation Businessman by Mr Shekhar Mital, CMD of Goa Shipyard Ltd.
Suraj is the first generation entrepreneur who dived into realty business in 1995 and changed the definition of luxury homes in Goa. Today, his dream venture Sun Estates is more than a decade old and has received tremendous acclaim from its niche clientele that comprises of industrialists from across India, NRIs, Bollywood celebrities, fashion designers, athletes, investors and many more.
He made their vision of modern, stylish homes into harmonised contemporary habitats with natural landscapes. His high profile clients include celebrities like Tarun Tahiliani, Raja Dhody, Jackie Shroff, Neha Dhupia, Pooja Bhatt and Ranvir Shorey, among others.
He also owns the luxury boutique hotel, The Sol – an upmarket hotel known for its typical Goan ambience. The Sol – is also recognised as one of the top 5 'Hot List Hotels 2011′ in Asia and Conde Nast Traveller. 
Ricardo D'souza awarded Excellence in CSR by Nurallah Veljee for his selfless contribution in improving the life state of the Goan society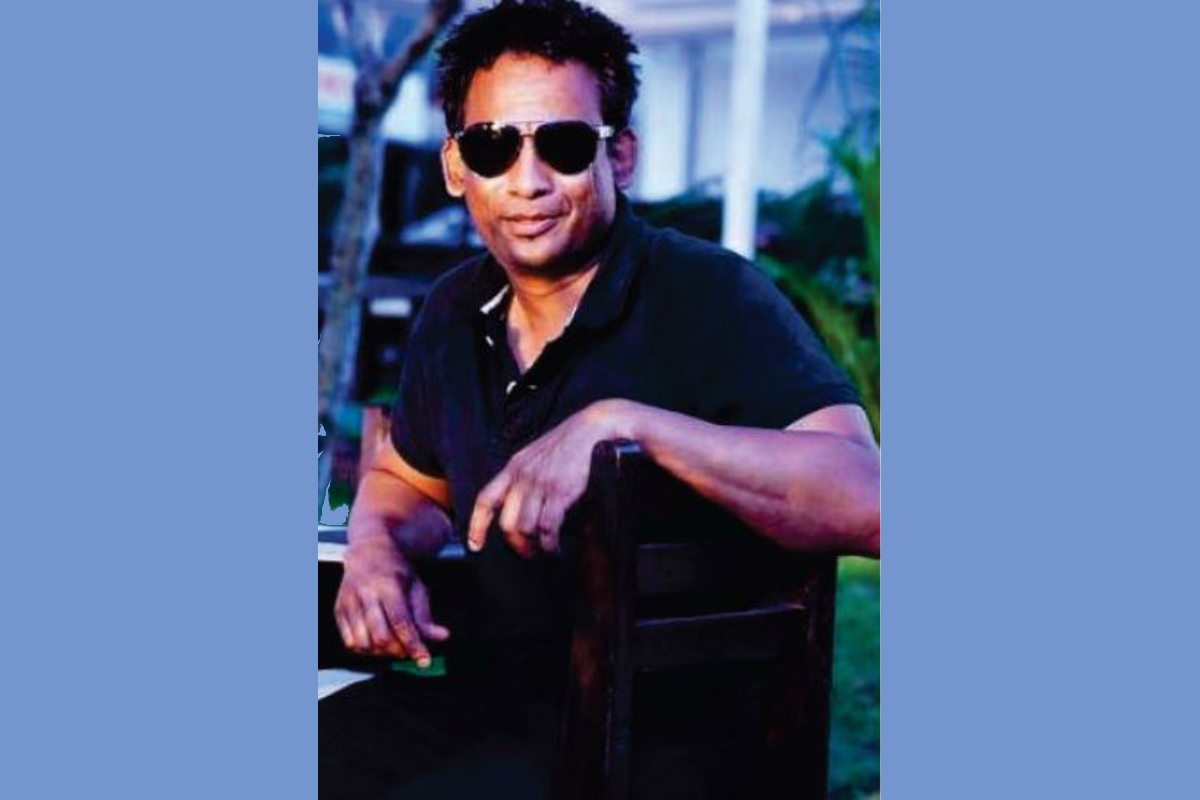 After achieving enormous success with Tito's Club, Ricardo D'souza was determined to enhance and recreate value in the lives of Goans. He always urged to improve the conditions of this beautiful paradise, and also the lives of the simple and warm people of Goa. He shifted his focus to CSR activities working diligently towards various social awareness campaigns that benefited the people of Goa. 
Rajiv Shinde, awarded Excellence in Art – Director by Ester Noronha for his contribution to Konkani Cinema
This stalwart of the Konkani Cinema, Rajiv Shinde is recognised for his directorial excellence. His films have set a benchmark in the Konkani film industry. He is one of the pioneers who started the trend of producing quality films in Goa.
His first Konkani feature film in the year 1997 won several national awards including the award for the Best Direction, Best Actor and Actress. His directorial movie "Dekhani Durai" earned him a lot of praises and accolades, and was the first movie to be aired on national channels as the best regional film.
He has to his credit, creations like K Sera Sera, Gela Madhav Kunikade, Thodasa Logic Thodasa Magic, and continues to contribute to theatre and cinema in a big way. Rajiv is known for his creative thinking and works as a professor of the Arts College. Teaching is his first passion, and will always remain his priority.
John D'silva awarded for Excellence in Art –Tiatr by Ester Norohna for his immense talent in acting, writing, directing and producing
In a short span of time, John achieved a landmark in the tiatr arena. He, in fact, is the first tiatrist to enter the "Limca Book of Records 2010" for acting, writing, directing and producing 25 tiatrs. John is known for taking tiatr to great heights and propagating it globally.
He made his debut in the Konkani theatre and did serious roles and characters with negative shades. In 1999, he switched to comedy adding yet another feather to his actor hat. His first role as a comedian was in his Tiatr "Umannem", which went on to become a huge success.
He is the first one to have released his 25th tiatr "Nattok" in countries like London & Germany. John has been awarded the first Yuva Srujan Puraskar award for Art and Culture by the Government of Goa for his commendable contribution to Konkani theatre.
Aryan Khedekar awarded Excellence in Art – Actor by Ester Norohna for his talent in acting
Aryan started his career with BIG FM radio as an RJ (Radio Jockey) in 2007 and gradually excelled to become a TV artist and Goan film star. With his attractive looks, charming personality and a powerful voice, this artist became the choice for many Goan filmmakers. Talent runs in his blood.
Realizing his talent for singing, he even started his band along with renowned vocalist Ashwini Jambavlekar in 1997. Later he took up acting, and his first real break came in 2005 where he managed to bag a role in a feature film called "Sakshi".
Then followed a series of films like Jagor, O' Maria, Suring, Prem, at first sight, Rainy Day and two Konkani block buster's – Home Sweet Home – I" and Home Sweet Home – II". His recent release was the movie "Martin" in 2016 where he played the lead role.  
Anura Prabhudesai awarded Pride of Goa – Sports by Ester Noronha for making Goa proud in the sports arena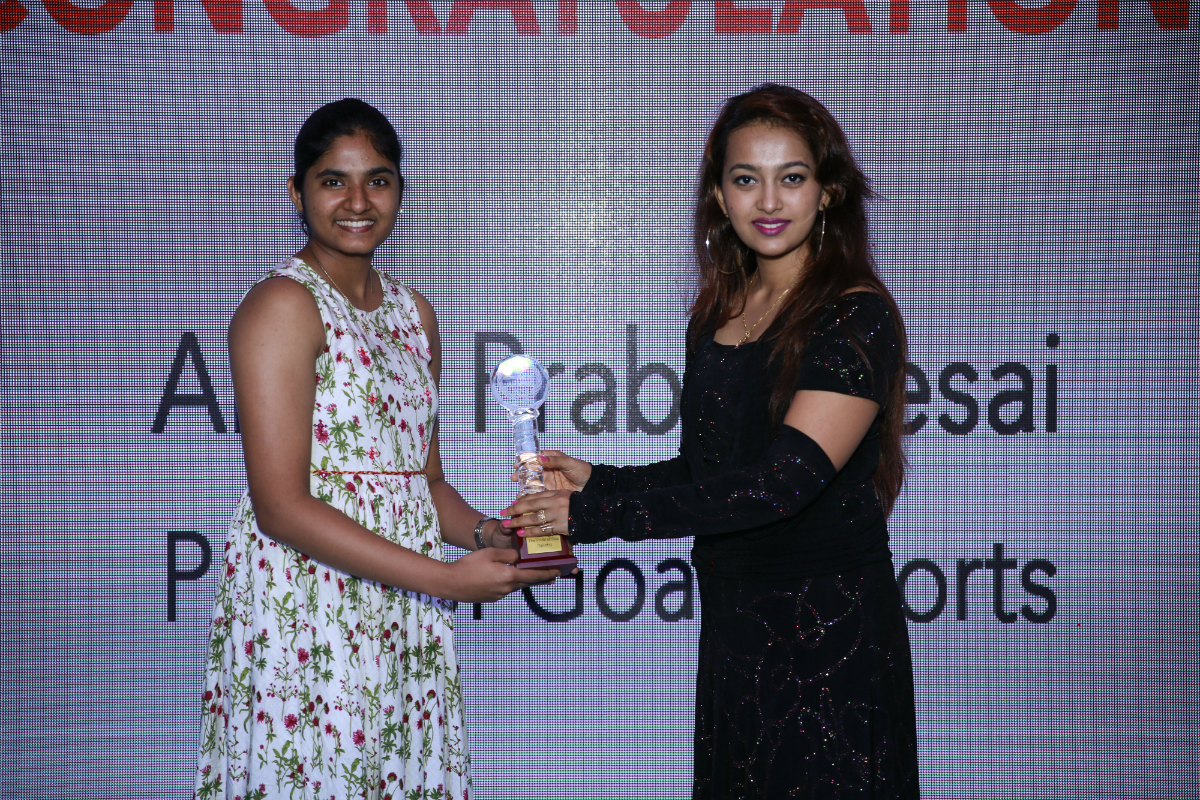 Anura, a super-energised 19-year-old, is rocking the sports arena in the badminton sport. She reached the No. 1 position in both the women's singles and doubles categories in 2017. In the latest rankings on the Badminton Association of India website, Anura took the top spot in the women's singles and doubles categories.
She now aims at breaking into the world top 100 rankings as well. She has won a bronze medal in the senior women's singles and silver in senior women's doubles competitions at the All-India Senior Ranking Badminton Tournament in Bangalore in 2017.
Trained at one of the most prestigious institutes Tata-Padukone Academy in Bangalore, Anura was selected to represent India in the Asia Junior Badminton Championship at Bangkok, Thailand in the U-17 age group. This young talent is currently ranking at sixth position in singles senior level and fifth in the doubles senior level in India.
Akshada Bandekar awarded Pride of Goa – Music by Ester Noronha for creating waves in the Goa Music fraternity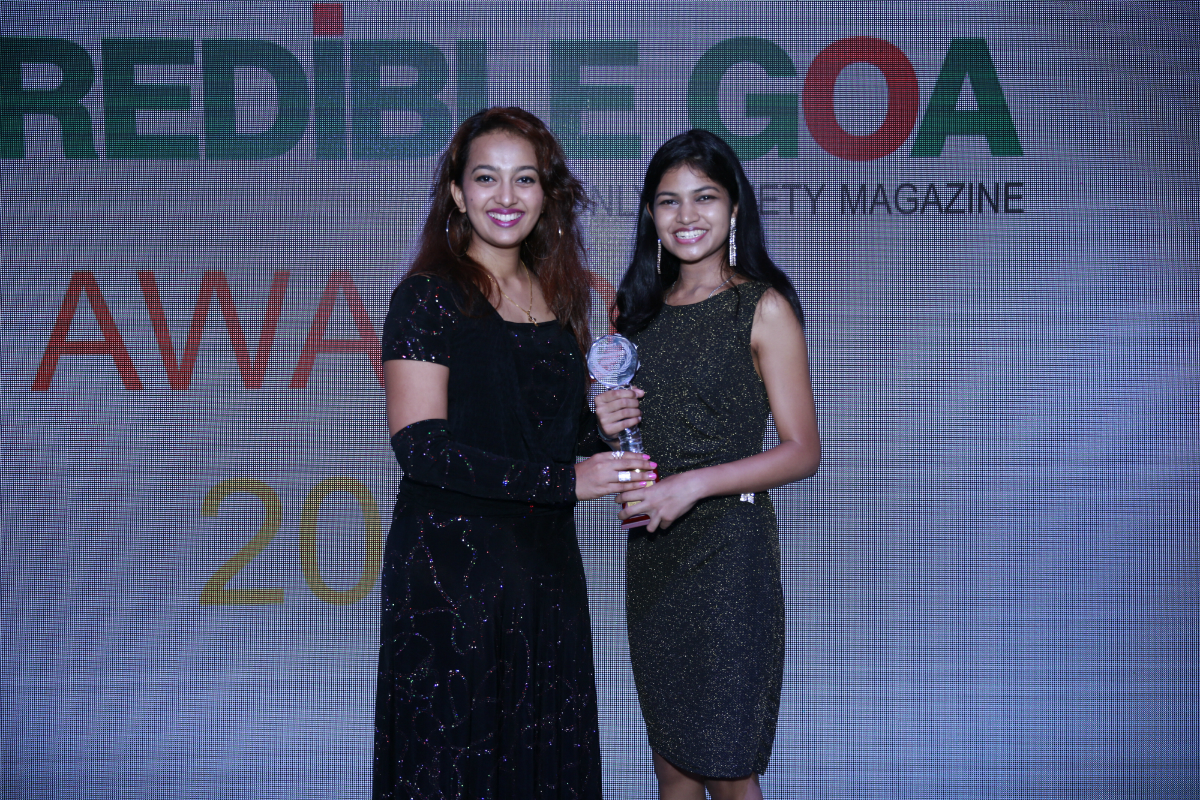 Being one of the youth icons and a musical prodigy, this bundle of talent began singing as early as 2 years of age. By the time she was 4, Akshada was performing on stage, adding numerous accolades to her portfolio.
She made her way up the ladder in the field of vocal music by rigorously training herself and dedicating herself entirely to the art of music. Not only is Akshada a fabulous singer, but she also writes songs and composes her music herself.
She is using her talent to send strong social awareness messages using her voice for social campaigns like 'Save the Girl Child' and 'Stopping Female Foeticides' and 'Female Infanticides'. She also contributed, through music, to help the Tsunami victims by organising a solo musical concert at the Goa Kala Academy.
At such a young age, Akshada has also received the "National Child Award" for Exceptional Achievement in 2014, from the earlier President of India Shri. Pranab Mukherjee at the Rashtrapati Bhavan at New Delhi.
Ujjwal Tripathi awarded Young Chef by Ester Noronha for acing in culinary art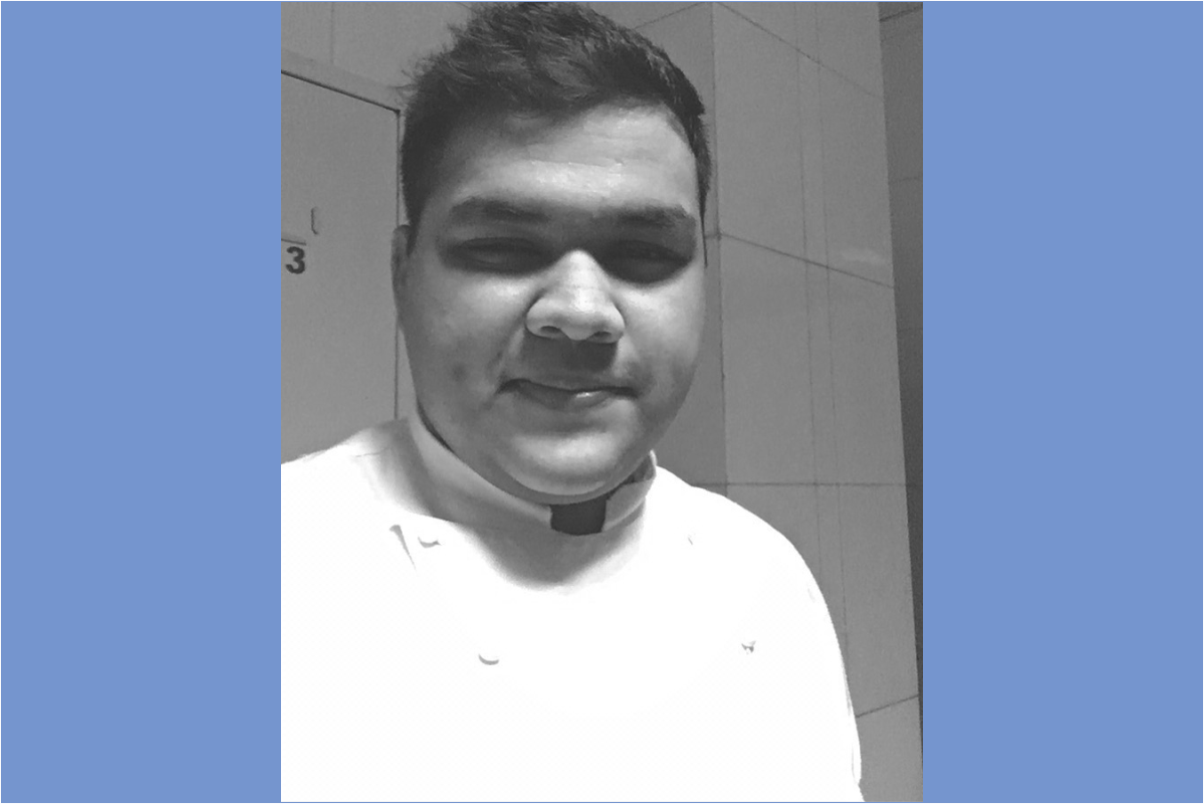 Ujjwal, a young vibrant personality and a go-getter, graduated as an engineer. But his passion for the culinary art made him switch his field of specialisation. To grow and excel in this field and make his dream a reality, Ujjwal is downright focused and dedicated towards polishing his skills as a chef from a reputed institute in Goa.
His future plan involves opening a restaurant that reflects his passion for food and skills towards conjoining flavours to create out of the box gourmet cuisines.
Sanjay Harmalkar awarded Trendsetter – Sketch by Ester Noronha for his master strokes and contribution to Art
An artist and art connoisseur, the fraternity is besotted by Sanjay Harmalkar's skills. His work of art is raw and rustic, and his passion is evident in his paintings. Sanjay has specialised in Applied Art from a premier art college – Goa College of Arts – and later embarked his journey into the commercial art business. He has been a successful advertising guru and managed an Ad agency that handled several well-known brands and business houses as its client.
Portraits painted by him have found a respectable place in some of the prestigious institutes and private chambers of the business magnets. He has created some masterly strokes of a few noted personalities like Lata Mangeshkar, Business Tycoon Ratan Tata, Sena Supremo Late Balasaheb Thackeray, and Freedom Fighter Lokmanya Balgangadhar Tilak.
His paintings have crossed international borders and reached virtually in every country with art heritage, be it Germany, England, or Canada.
Varad Karmali awarded Trendsetter – Drone Shooting by Nurallah Veljee for an exemplary show of technology merging with photography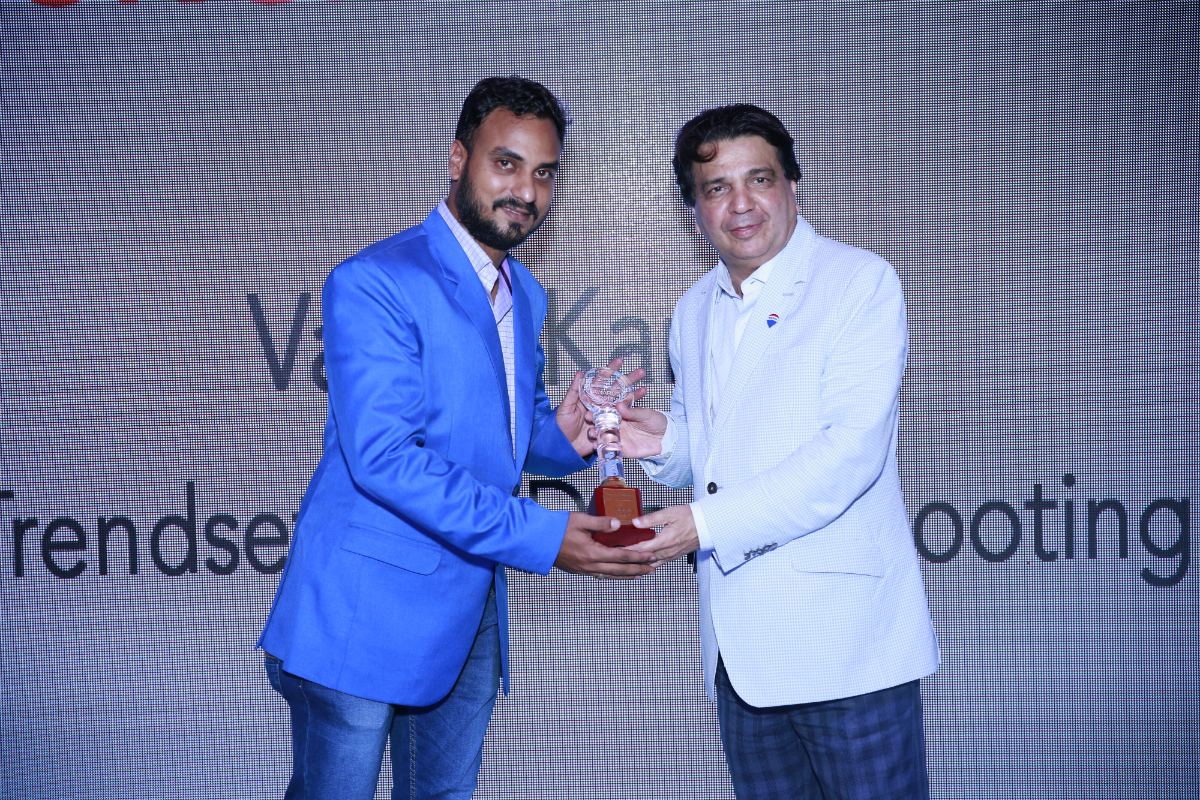 This young techie cum photographer is one of the few photographers in Goa who is using drone technology for capturing the most astonishing footages for videos and films. Varad's fetish for this new age gizmos has earned him assignments from all over India.
Ranging from music videos and EDM festivals to big-ticket Bollywood films, he plays phenomenally with the visuals and gives the movie an edge with respect to the photography. He has taken some striking aerial shots of the action sequences for the recently launched movie Baaghi 2 featuring Tiger Shroff and Disha Patani.
Apart from big Bollywood films, the young artist also bagged accolades for his work in few South Indian blockbusters and advertisements. Experimenting with the drones for capturing footages some mesmerising imageries, he is the man behind the brand 'Droneacharya'. Varad is all set to charge on and take the lead for being the pioneer in Goa for drone photography.
Alirio Saldhana awarded Excellence in Photography by Nurallah K. Veljee, for his pioneering contribution in commercial & academia photography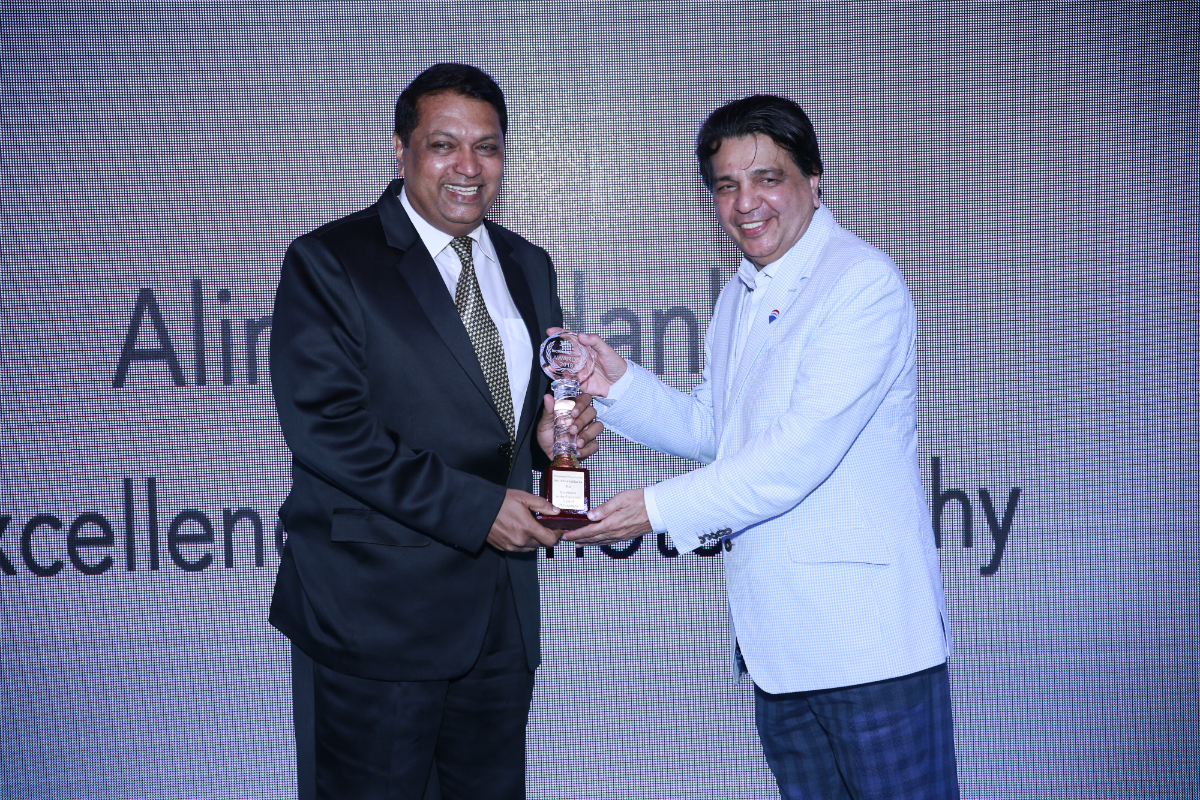 Alirio is a master of photography and is well-known in the photography fraternity of Goa and around the world. He has to his credit a membership of many prestigious Indian and International creative and commercial photography institutions that make him a celebrated personality.
A qualified commercial photographer with an honorary degree of excellence from The American Image Press, Shari Academy of Professional Photography, Mumbai and the Light & Life Academy, Ooty, India. His institution – Stenodac Institute for Career Training and Professional Education has won the Best International Standards Institute in India at the International Excellence awards in January 2018 and the International Quality Award 2016 for International standards in Education.
He was also honoured as the "ICON OF THE YEAR 2015" by Rajya Sabha MP Shri. Amar Singh and Goa's Dy. Chief Minister Mr Francis D'Souza in the presence of the legendary athlete Mr. Milkha Singh, and the Education Excellence Award 2013 by the Advertising Guru – Mr Prahlad Kakkar.  
Rajeev Kumar awarded Excellence in Hospitality by Nurallah Veljee for his achievements and contribution in the field of hospitality 
Claiming phenomenal success for the past 18 years in the hospitality industry, Rajeev is currently adding stars to luxury hotels like The Fern Group of Hotels and holds the position of General Manager at The Fern Kadamba Hotel & Spa.
In the past, he worked with some elite brand of hotels like Intercontinental Hotel Group, Concept Hospitality, Mahindra Holidays, Wyndham Hotel Worldwide & so on. He utilises his vast experience and in-depth knowledge of hospitality in improving service quality standards and driving performance and growth in hotel operations.
His proficiency is guest relations giving exceptional experience to guests arriving at the hotel. This gentleman endeavours to bring in a revolutionary change in the field of hospitality.
Ritu Puri awarded Excellence in Fashion by Ester Noronha for her immense creative talent and setting trends in Goa's fashion arena
Ritu, a gifted fashion designer, has received tremendous recognition and appreciation for her contribution to Goa's fashion fraternity. An immensely talented and dedicated designer stepped foot in Goa 2007 after acquiring a degree in fashion and textile designing from Delhi.
She struggled her way up in Goa working as a freelance designer and eventually setting up her fashion label and studio.  She worked on various projects along with the well-known photographers and fashion houses in Goa and came into the spotlight with her unique fashion show titled 'Curves & Beauty'. In her career journey in Goa, she got the opportunity to work with some well-known photographers and fashion houses in Goa like Prasad Pankar and Pragya Samore.
Norbert D'souza awarded Excellence in Fitness World by Ester Noronha for his contribution in making the Goan people fit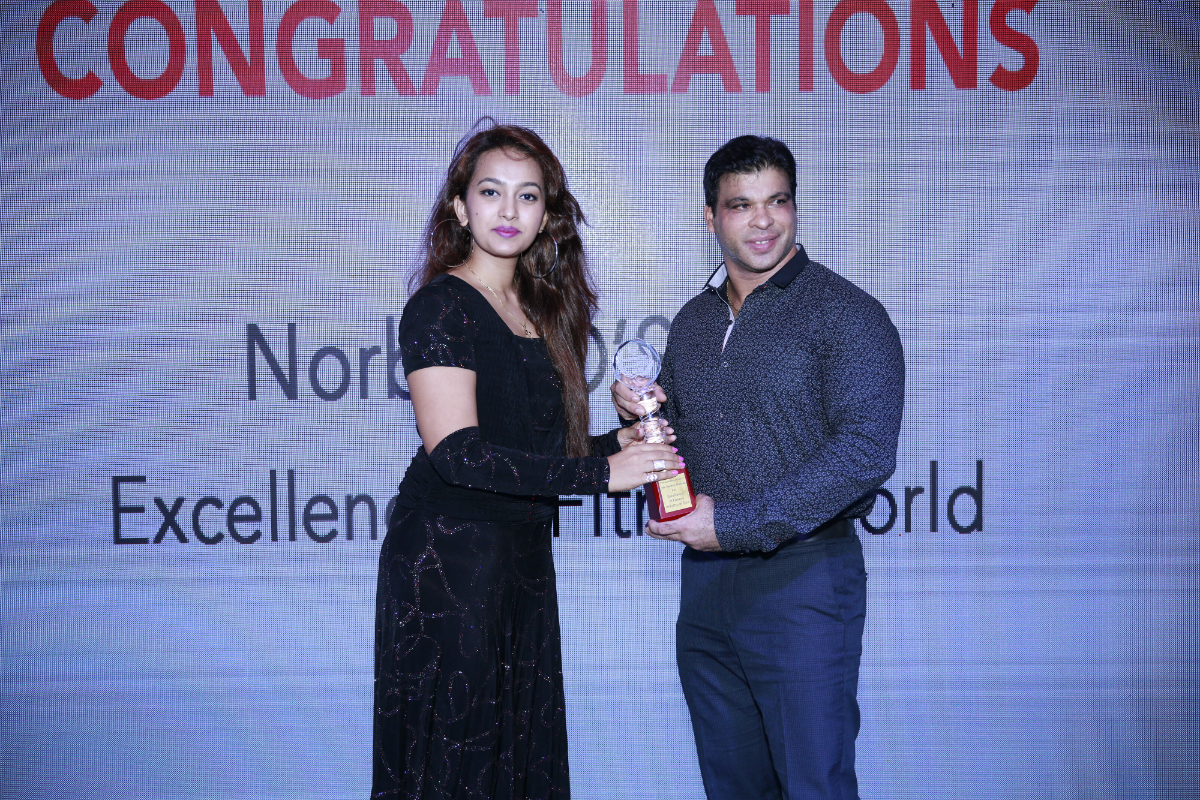 Norbert is a well-known name in the field of fitness in Goa and is a proud owner of India's largest fitness studio chain in Goa and largest facility in spread across the 36000 sqft area in the Ocean Park.
He holds a Personal Trainer Certification and a Specialist in Exercise Therapy Certification from the USA-based ISSA (International Sports Sciences Association). Norbert has trained himself at the Fitness Management and Exercise Techniques at the acclaimed Leena Mogre's Fitness Academy, Mumbai.
He has won many gold medals at Inter-College and State-level Bodybuilding and Power-lifting Competitions and also represented Goa at the National Bodybuilding Championships across the country over a period of 3 years.
He is today considered a pioneer of gym culture in Goa and has been making the Goans, of every age, become fit.  
David D'souza awarded Excellence in Nightlife and Entertainment by Ester Noronha for making Goa a memorable party hub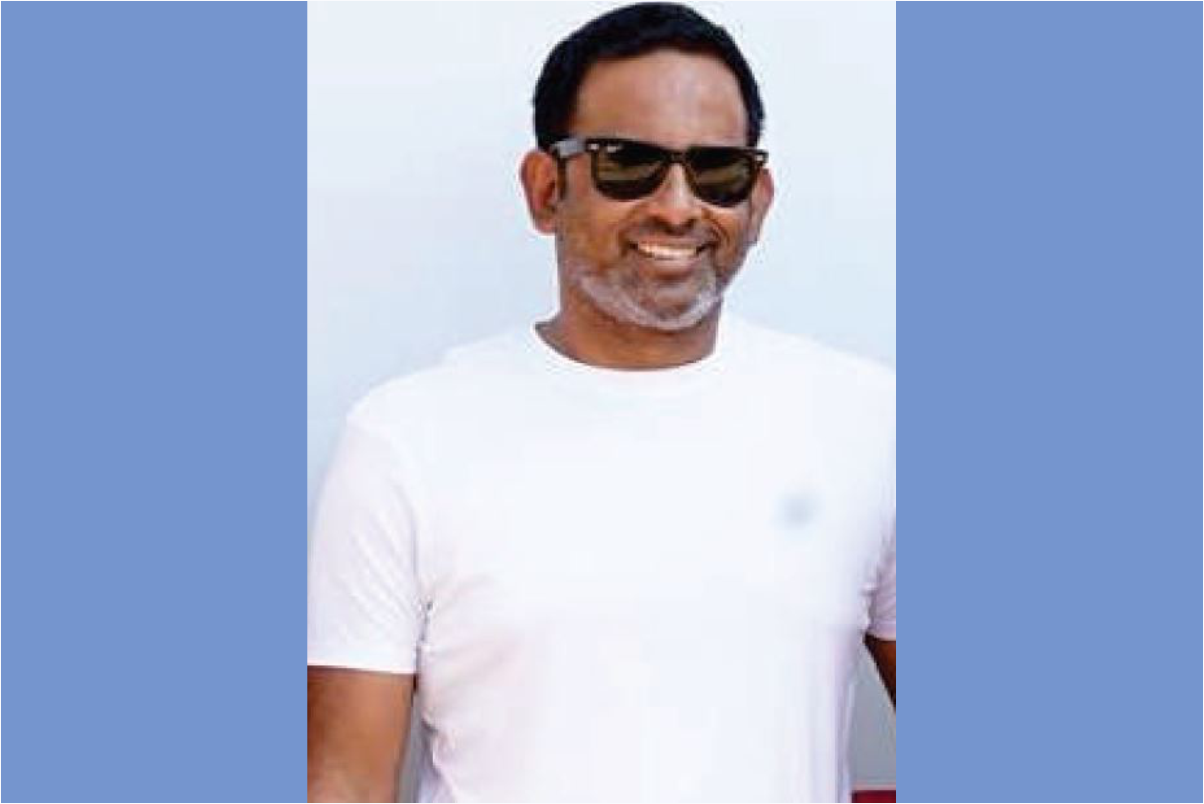 David D'souza along with his brother Ricardo D'souza owns the most prominent hotspot for all parties in Goa – The Tito's. The lane where Tito located has become 'the party place' in Goa. Since his take-over, David changed the face of the place from a shack to an elite club in Goa, establishing himself as the pioneer of nightlife in Goa.
Once a tiny bar, today, has turned out to be the most successful and most desirable party-hub and the 'Golden Mile' of Goa. More than 1,000 people make their way to Tito's lane every day during the tourist season. And on special days Christmas and New Years' Eve, this number multiplies to four or five fold.
He is very particular that nothing spoils the reputation of this beautiful paradise. David has bigger dreams to make the party scene in Goa not only enjoyable but safe and memorable. 
Narayan Bandekar awarded Lifetime Achievement Award in Business by Nurallah Veljee for his legendary contribution to growth businesses in Goa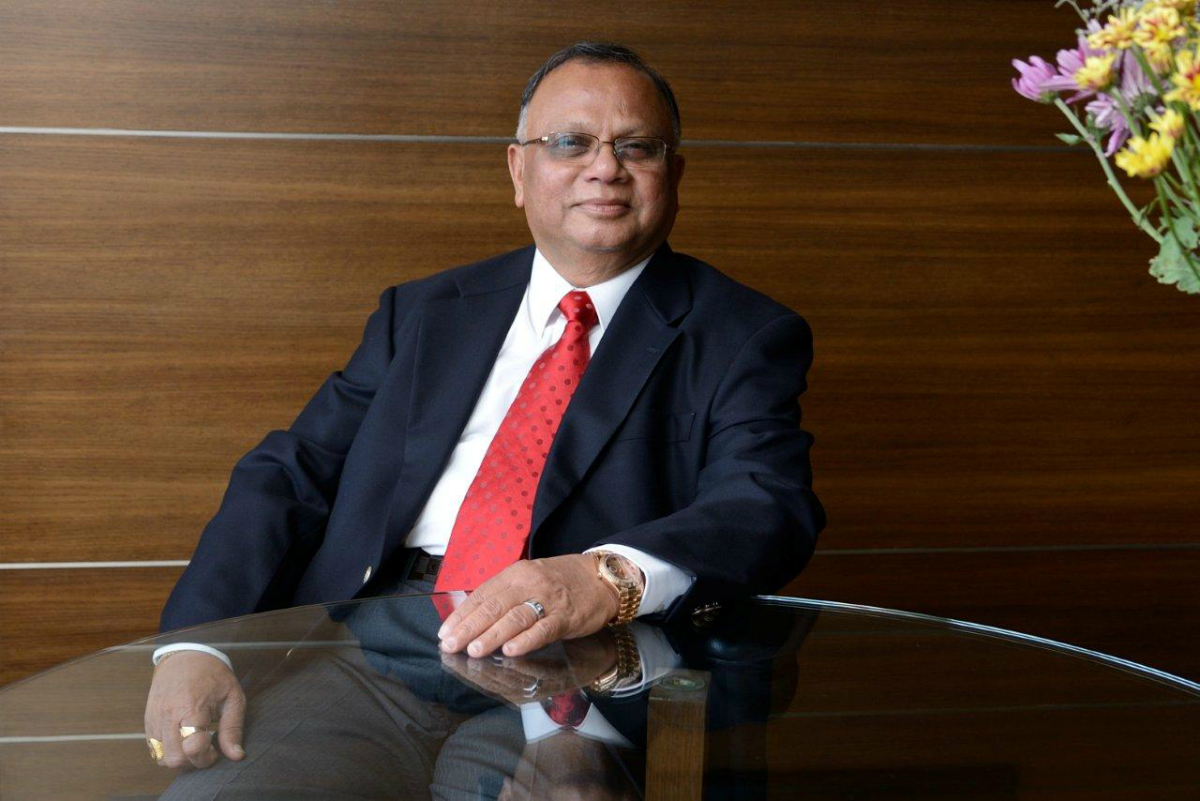 Chairman and Managing Director of NRB Group of Companies, Mr Narayan Bandekar has contributed significantly towards various projects and activities for the betterment of the quality of life in Goa.
Being the most admired man in the business world, Mr Bandekar is praised for his entrepreneurial success and readiness of extending help to his fellow industrialists in times of need. He was also elected, twice consecutively, as President of Goa Chamber of Commerce and Industry.
Recently he was presented with a Lifetime Achievement Award instituted by the Goa Bizfest at the hands of the state Chief Minister Mr Manohar Parrikar in February 2018. Besides being a highly successful businessman with interests in mining, pharma, light engineering, construction and hospitality, he is also known to be a philanthropist and a lover of art and culture. 
A bouquet of flowers presented to the Editor & Publisher, Mr. Rajesh Ghadge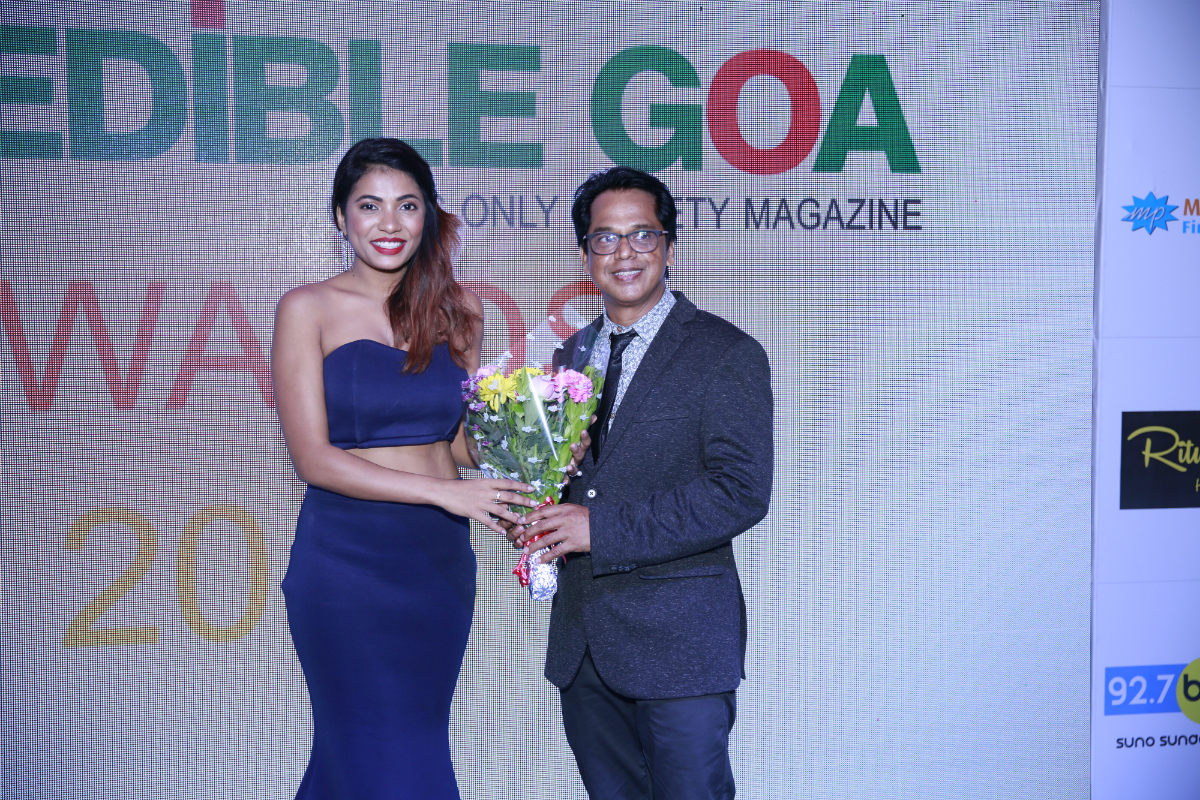 This energetic ambitious gentleman's journey began with his passion for writing. Rajesh's way with words and nearly a superhuman power of vivid imagination together led to the foundation of a successful but meaningful media portal – Incredible Goa.
His everlasting hunger and zeal for learning have made him a skilled and multi-talented in the area of coding, designing and also marketing. An avid reader and writer, this super energetic guy fuels himself from books, music and movies. A history fanatic, Rajesh charges on like a one-man army carrying on his shoulder the onus of responsible journalism and propagating the true Goan spirit.
The Performances
Ganesh Vandana
The evening opened with 'Ganesh Vandana' elegantly performed by Bharatanatyam dancers – Manjushri Mate, Aditi Naik and Swechchya Gadkar. The beautiful performance gave the event a graceful and an auspicious start.
The performance was choreographed by Mandira, who trained under the guidance of a recognised Bharatanatyam scholar performer Guru Dr Sandhya V. Purecha. Mandira started her career 22 years ago in the field of classical dance after receiving professional qualification from Bharat College of Fine Arts and Culture. She is associated with the Goa Kala Academy as a lecturer/teacher.
Dance performance by children of DFDA Academy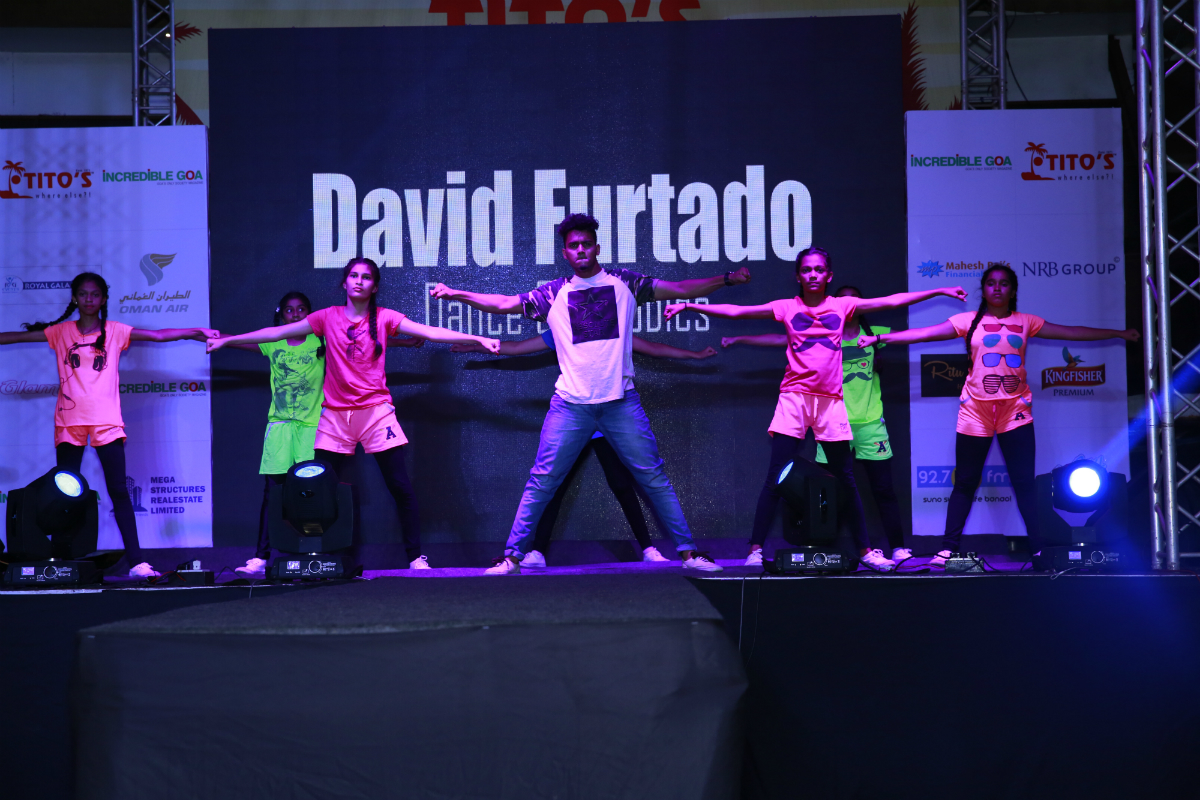 Another performance that was the highlight of the evening was a group dance performance by kids from the DFDA Academy. The kids from the academy danced on some foot tapping numbers, giving the audience a chance to jump from their seats and participate. It included a surprise performance by Goa's star actor Kevin D'mello.
The entire ensemble was put together by David Furtado who runs the DFDA Academy. Many known and hit shows and events, including movies, were choreographed by him like – the Splitsvilla Season 8 on MTV, Captain Shack on MTV, Stage Show for renowned singer Shaan in 2006, Stage Show for Akshay Kumar in 2005, Marathi movie – Prem at First Sight, and was the winner of Boogie Woogie in 2001 aired on Sony TV.
The Fashion Show by Ritu Puri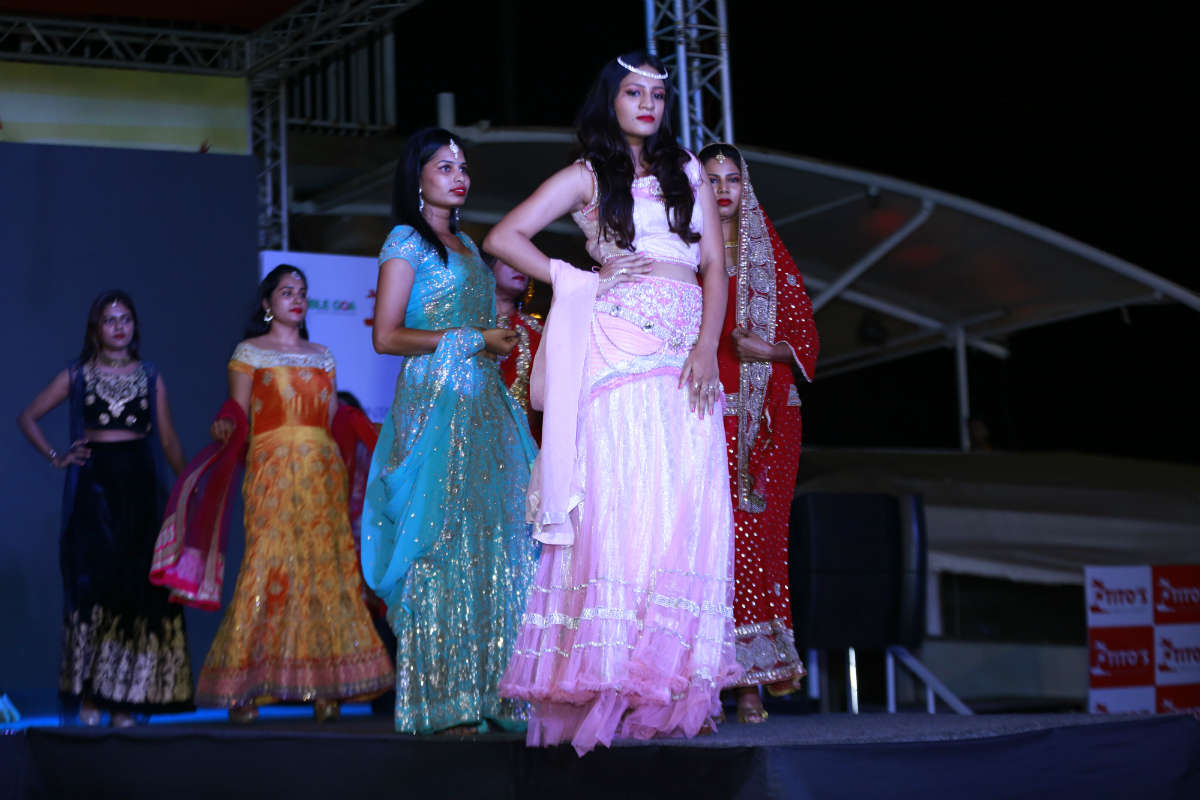 The Fashion Show by Ritu Puri was the showstopper of the event. The ramp walk by the models on the posing on the theme – Curves & Beauty – marvelled the beauty of women regardless of the shape of the body and colour of the skin. The clothing line from Ritu Puri was based on "Royal and Elegance" that brought out the beauty of the curves of a woman. It was an inspiring, stylish, and elegant show.
Ritu Puri is known for creating her style and follows this mantra to the core – "Style is what you cannot buy. It's within you." She has been creating a lot of buzz in the fashion arena of Goa and gained many accolades in a short span of time. She has been regularly featuring in many fashion shows, fashion shoots and launching newly designed couture from her high-end label – Ritu Puri.
The event ended on a high note with all the celebrities and personalities getting together and networking. A photo session followed by some scrumptious dinner and drinks.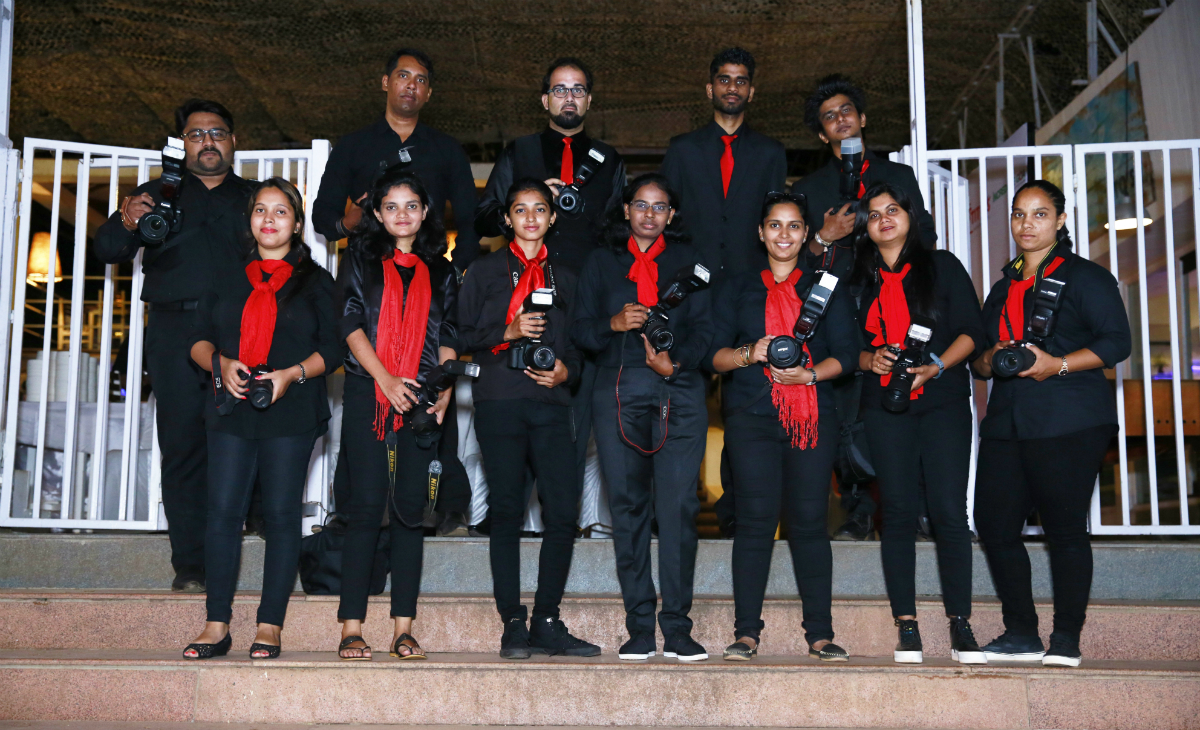 Incredible Goa is now coming back with the second edition of the Incredible Goa Awards 2019 with more names of the wondrous people and achievers of Goa. Wait for more details…