I have written many stories on the inspiring journeys of entrepreneurs from Goa but this is something very close to my heart since I also share the same land where Vijay comes from the beautiful place called Aldona. Today, Vijay runs a business empire that has revenues over 20m US dollars which is about 150 crores INR, with ZERO debt. Let's find out how and where all this started? I have a very interesting story to tell this time, so please stick around and make sure you don't miss out on this inspiring story. 
Vijay talks of how a chai wala can become a PM and hence anyone can dream. "You just have to dream and manifest it in you. We live in a wonderful world where everything is possible," says Vijay. "The only reason something doesn't happen is that people don't dream big or don't push those dreams hard enough."
Vijay also believes that luck also plays a major role in your success and failure. "Many a time things don't turn out the way you plan it and luck does play a role in this. I have come across many people who don't believe in luck, but I do not agree with that. According to me, there are some elements of the universe that helps you when you manifest your dreams into it," said Vijay, adding that the harder you work, the luckier you get. "You need to think of possibilities. I had always been a daydreamer as a kid and I used to visualize things that will make this world a better place. There is nothing wrong with dreaming and it does not hurt to dream, and I kept dreaming and grabbed each opportunity that came my way. There is a saying in Canada, quoted by a famous hockey player, Wayne Gretzky: 'You miss 100% of the shots, you don't take. Taking shots at goal often increases your chances of scoring in business and in life in general. I truly believed in that and made sure that I take a shot at every opportunity that came my way and tried to make the most out of it."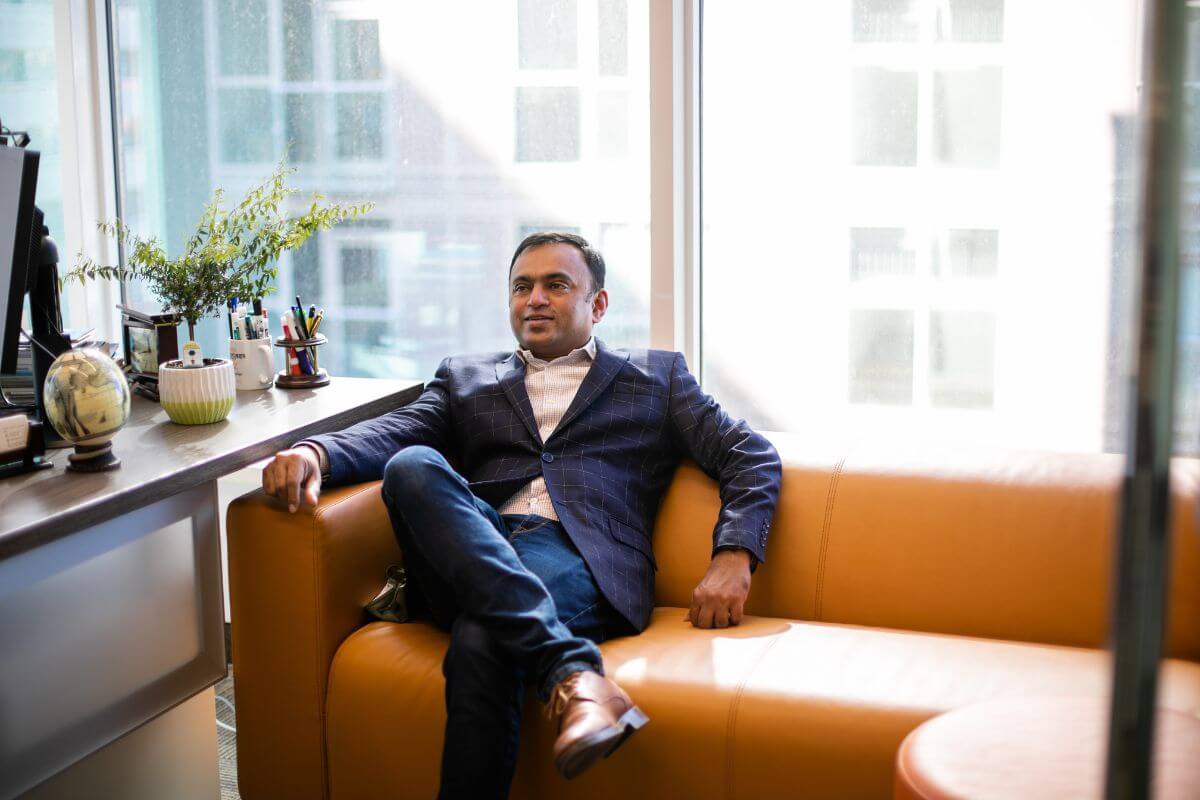 The 20 Million Dollar Company
Vijay shares with us that his parents were not in favour of him getting into business and they advised him against it. "My mother told me that nobody in our family had been successful in business and anybody who tried their hand at anything business-related, failed miserably," said Vijay adding that his parents told him to get a job and work for any big software company. "I would have been a vice president by now if I had to listen to my parents but that was not my dream, I truly wanted to do something on my own and create a business and decided to give a chance to myself. I was very adamant to make it successful, which I did and today, I run a 20m dollars (150 crores) company with zero debt."
Vijay's wife has been a strong support system in his journey of success. "For the first 4 years, our company did not make any money and I did not even pay a salary to myself," said Vijay adding, In a place like Canada, which was completely new terrain for him, he had no idea how this will turn out. "My wife always supported me to achieve my dreams and today my family owns 100 percent equity in the company since we never raise any funding from any other source. I have built this company from scratch."
Today, Vijay owns a decently sized IT business and there is a very interesting story about how all this started. After completing his MBA from the Goa Institute of Management, Vijay joined  Satyam Computers, a leading software services company in the late 90s. "I worked there for 3 years in the management consulting division of the company, and I was involved in some groundbreaking projects. During that time, Chinese businesses were looking to expand into India and the bicycle business was ripe for the taking. A major Indian bicycle company approached us to find a solution and we redesigned their supply chain and made them more efficient and customer-centric. I have been involved in a palm pilot-based B2B E-commerce system for them in 1999," he said adding that with the help of that system a vendor could order their stock directly through the E-commerce platform developed by them and get the bicycles delivered to their shops. "This was the time when the e-commerce platforms such as Flipkart and Amazon did not exist. We were so much ahead of our time that we used the palm pilot to execute the orders."
The Turning Point 
Everyone has a turning point in their lives that changes their destiny and when I asked Vijay about the same, he said, "The turning point is very interesting. Harshad Mehta opened the doors of the stock market for India which attracted me towards it, and I started reading more about stocks and then I borrowed some money from my dad to invest in the stock market," he said as he went to Engineering school, he honed this skill even more "Let me tell you a very interesting story behind this," he continued, "When I joined the engineering college we used to pay the fees every semester and in case you miss one payment for one semester, the late fee was only five hundred rupees, so that gave me an idea to invest the money of the fees in stocks and for this, I got some of my friends together and invested even their money thinking we will make some profit and pay the late fee charges in the second semester. It was quite a big risk since everything was at stake and if something had to go wrong the whole thing would have turned upside down. I told everyone that I will pay their late fees and invested all the money into various stocks but luck played its part and I got all the money back with the profits that enterprising thing made me confident enough to venture into the business in the future."
After finishing Engineering, Vijay did his MBA from the Goa Institute of Management and joined  Satyam Computers. "It is due to the IT industry that I got to travel across the world and I worked overseas in Boston for some time," he said adding, From Boston, he got an opportunity in a Canadian company in Montreal as a project manager. As his wife could not get a marketing job in Montreal as French was essential in marketing, they moved to Toronto after a year. "I joined a French company in Paris with operations in Canada and they made me the head of their Toronto operations. I did very well there and we received many awards but then the real turning point came into my life that changed everything," he paused for a while and continued, "I came to know that the owners in France sold the company to new investors and I was the only one left in Canada that was reported to the folks in France and they wanted me to rebuild the company and build right from scratch in Toronto. This was the straw that broke the camel's back. That made me think if I had built the company for somebody else right from scratch then I would rather build it for myself and the only difference was that if I had to build it for someone else, I would get a salary but if I had to do it for myself, then I had to pay for myself which was a big risk, that too in a country that was very new to me and far away from my home. But I decided to take the risk and the rest is history."
You Need to Jump into The Water to Learn to Swim 
You cannot learn to swim by standing on the shore and something similar happened with Vijay. When he decided to venture into his own business in 2003, he knew the risk but he decided to take that big risk and dived straight in. "I took the plunge and started holding on firmly to every opportunity that came floating my way to survive," said Vijay adding that as went ahead things started working out, he had nothing to lose and everything to gain. "During those days, IBM, a big software giant, had a contract with the Walmart group and they were looking out for partners with the knowledge of supply chain management. I decide to take up the opportunity and became an IBM partner. The software cost only 800 Dollars and the additional service contract of another 800 Dollars which was very small money for many of the existing IBM partners that made millions of dollars on their deals but were a big amount for companies like mine. I raised my hand and grabbed the opportunity."
During that time Vijay was living in a small one-bedroom apartment in Toronto with his wife and daughter and he had an office in the same apartment, "I had one engineer who would come and do the work. It was a difficult time, but we pulled it off," said Vijay adding that the contract, which was considered small by the big multimillion companies, was actually the tip of the iceberg. "Little did they know that there were 3000 vendors of  Walmart in Canada and each one needed this software that cost only 800 dollars with a service tag of another 800. It was now a sheer number game of selling the 800 dollars software to 3000 vendors, that was 2.4 million dollars. Of course, I did not get all of them but that became my gateway to get some of the big accounts like Sony Music, which no way I would have got, and hence according to me luck also played a very big role in this."
Here, Vijay learned one important lesson and that is to go on the path that others avoid today he uses this practice as his tried and tested business formula. "I work on this theory of providing a solution to sectors that others don't venture into it thinking it's trivial, that may not get the big money, but what they missed is the opportunity that opens Pandora's box of big business along the way," said Vijay. According to Vijay, there is no work small and big, "When I started my entrepreneurial journey, I used to do everything myself, like all the selling, consultancy, software implementation, and maintenance. Some of my earliest customers were impressed that I was also able to speak to them about their business from not just the software solution perspective but also from a strategic perspective and they started coming up and asking "What else can you do?" This way I started working on new avenues and  one thing led to another "There is a saying 'Rome was not built in a day and I must say that it takes lots of hard work, intelligence, and persistence to build a global business empire. I had fun, lots of fun along the way."
Geography is Now History
Today Vijay has more than 10 Fortune-500 companies on board Reliance Retail being one of the prominent ones from India. "If you are a vendor to Reliance Trends in India  then you have to log into a Tangentia Portal to receive purchase orders, send their invoices," said Vijay adding, that Jaguar Land-Rover in the UK is another big global customer "It was one of biggest automation projects in the world that saved around 100 million dollars for them." One of our core values is that "Geography is now history" i.e. location does not matter anymore with the world connected with invisible wires. "We have dreamed of becoming a global company and currently we are a 300-people company and in 2025 we aim to be a 1000-people company with 100-Million (750 Crore) in revenue."
Aim for Impact
According to Vijay, a growing company does not mean only increasing manpower but to create a dent (impact) in the universe. "Our motto is 'Aim for Impact', i.e. don't do just the projects, but create an impact in the marketplace. Let me share a small story with you. There is a province called Ontario in Canada and in 2015, the premier (CM) of the state went on announcing in November that there will be a beer in grocery stores before Christmas.  It was a great start because until then people had no option but to buy the beer from only government liquor stores. It was very short notice and there was a need of building an entirely new supply chain, ordering system, connecting the vendors with suppliers, shipping, tracking, and invoicing all in just 6 weeks. They went to all the big software solution companies like IBM, Accenture, and Deloitte and everybody turned down their offer saying it cannot be done in 6 weeks but I grabbed this opportunity saying we (Tangentia) will do it, and we worked day and night 24X7, and we delivered in 6 weeks making record time, and today even after  8 years,  we run the entire supply chain for Beer, Wine, and Cider in the province of Ontario," he added.
"This is called making an impact. Today you go anywhere in Ontario and people say that you are the guys (Tangentia) who made life better for us. That makes me feel happy and proud," said Vijay adding that don't just do a project- do something that will make an impact. "Tangentia is not the cheapest solution provider in the market, we are at times more expensive than TCS, Infosys, Wipro, and Tech Mahindra, but we have the agility,  expertise, and time-bound delivery systems in place that make our solutions superior. We provide comparable world-class service but are more value-priced than the global consulting majors like Accenture, Deloitte, and KPMG."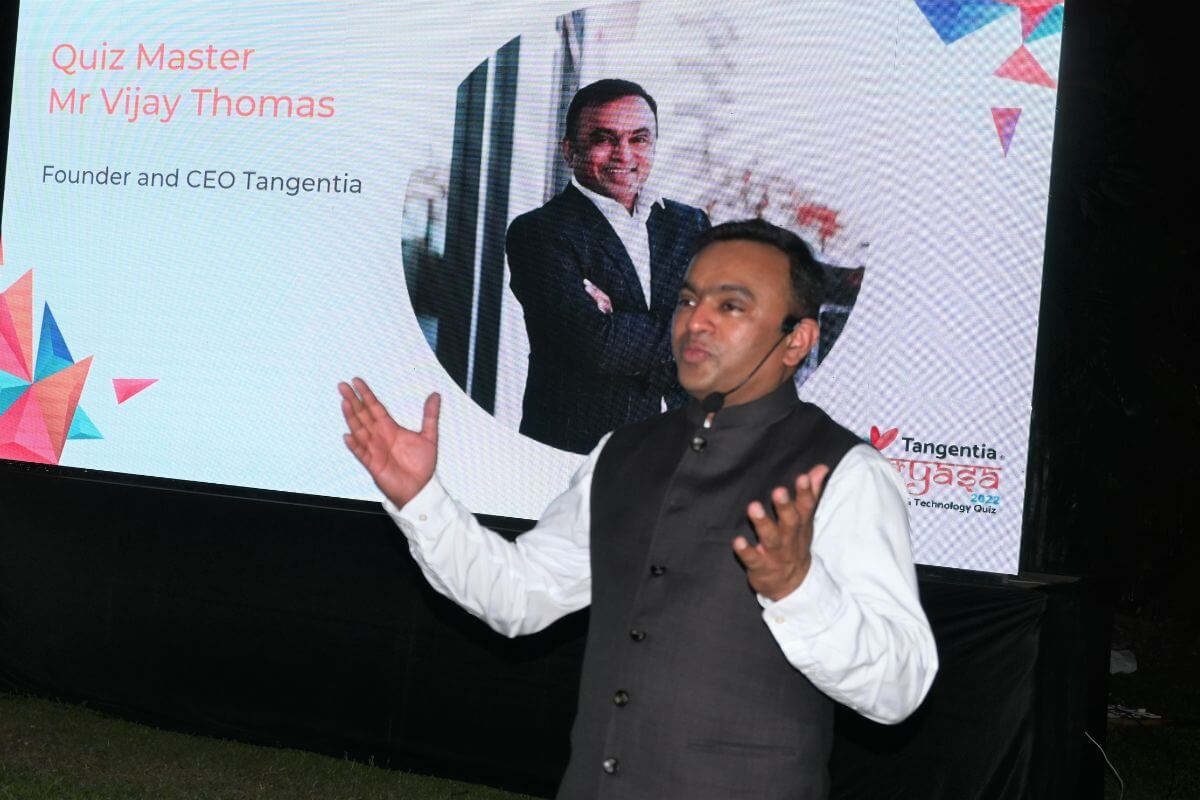 The Birth of Jigyasa Quiz
Today Vijay runs a quiz brand called Jigyasa which is the only one in India. "I was always into the quizzing right from my school days, and when I joined  Satyam Computers, I came across the Internet Revolution that changed my whole perspective," said Vijay adding that Satyam had 40 thousand employees. It was there that he started a quiz called "Jigyasa" in 1999. The name Jigyasa was suggested by one of my colleagues, Susmita Gupta, who suggested the name Jigyasa (which means inquisitiveness), and I decided to take up that name for the quiz. It started as an email quiz initially as we used to email the quiz once in a week to everybody. It was just amongst 150 people who used to send the answers and then we had a prize for the winners. Slowly the numbers started growing so next time we sent it to 5000 people. The growth really caught up with us and finally, we decided to send it to everyone at Satyam, which means 40 thousand people, and in the bargain, the server crashed! And that was the end of the story. The Satyam technical network team banned Jigyasa "
It was in the year 2017 that Vijay decided, now it was time to create a brand out of the Jigyasa Quiz. "By this time we had some funds from Tangentia to pump into the "Jigyasa Brand" and to bring value to what we were doing all this while as a hobby. Initially, it started from Goa, and then we went national quite soon after. This year, we had the best of the teams from across the country participating in the quiz. The teams from IIT and IIMs participated in Jigyasa Quiz. Tangentia Jigyasa Quiz is now a permanent fixture on the Indian quizzing circuit (similar to the Formula One Circuit) with top teams ensuring that they keep this time open every year to participate," said Vijay, adding that there are many event management companies who approached him to take up the Jigyasa Quiz but he did not go for it for the simple reason that he himself loves to do this. "It is a hobby for me and I enjoyed doing it myself."
The VC 
Vijay always saw an opportunity in everything and this trait of his made him a well-known Venture Capitalist(VC) in the business circles in Canada and India with his Tangentia Ventures company. "I was the round one investor in the company called Ixigo, which went public recently, and although I exited earlier, it was my first entry into the VC and I learned a lot from that experience and decided to try my hand out at getting organized and investing in more companies. It was in the year 2019 that we invested in a Kerala-based company Cycloides and later on we bought the entire company. One of my investments is  Dogspot. which is one of India's top pet portals" I am very proud to say that Tangentia Ventures has a higher stake in that company as compared to Ratan Tata who is also an investor."
Vijay is planning to set up a Tangentia Ventures Fund, wherein people will invest money into start-ups and scalable projects, and whatever returns come in,  will be distributed amongst the investors. "We will work like a private bank, funding company. We are in the process of raising the money for this purpose," said Vijay adding, "Let me share one last story with you. During Covid, we invested in a couple of companies and one of them was a laundry business in Toronto. While doing the laundry, they also started providing stitching services and then one thing led to another and they started making masks and gowns for the hospitals. They had only limited space so I decided to invest in this company today this company is known as Clean Planet and it is the largest manufacturer of isolation hospital gowns in  Canada wherein they make 200,000 gowns a week. This is one of the best investments that Tangentia did wherein the company had scaled up from nowhere to the biggest company in Canada." Vijay has a plan of entering this segment in a big way in the near future and he is sure of creating that change in the society.