Goa is a land of magic, its mesmerizing beauty captivates the senses of people who visit this place. According to the author of this article, who visited Goa for the first time, Goa appealed to all her five senses, you can really see, hear, smell, taste, and feel it. That is something beyond the imagination of the common man, but the author's perception of Goa is completely based on her journey to the land of the Portuguese Era.   
Landing at Dabolim airport in Goa, and walking to the exit with a long and exciting schedule in mind, my expectations soured as soon as I saw my name on a placard held by a man in a white tee and black shorts. With an acknowledgment smile on his face, our guide-come-driver drove the cab on the fast track, to our stay located in Arambol as though we were on racing with someone. Unsure of what made us feel dizzy and tired – the driving through wide roads and narrow streets, uphill, downhill or the nonstop chatting on the early morning flight.
We were extremely exhausted from this entire high energy expedition from the sky to the roads. Our friendly driver walked us through winding streets towards 'Cactus' our place of stay at the Arambol Beach. We were welcomed by our friendly hosts Angelo and his wife Helen, giving us the first impression of the civilization of a warm, happy people. After reaching our place of stay, we decided to take a power nap to rest our tired souls. An hour later we woke up to a cool breeze blowing in from the sea.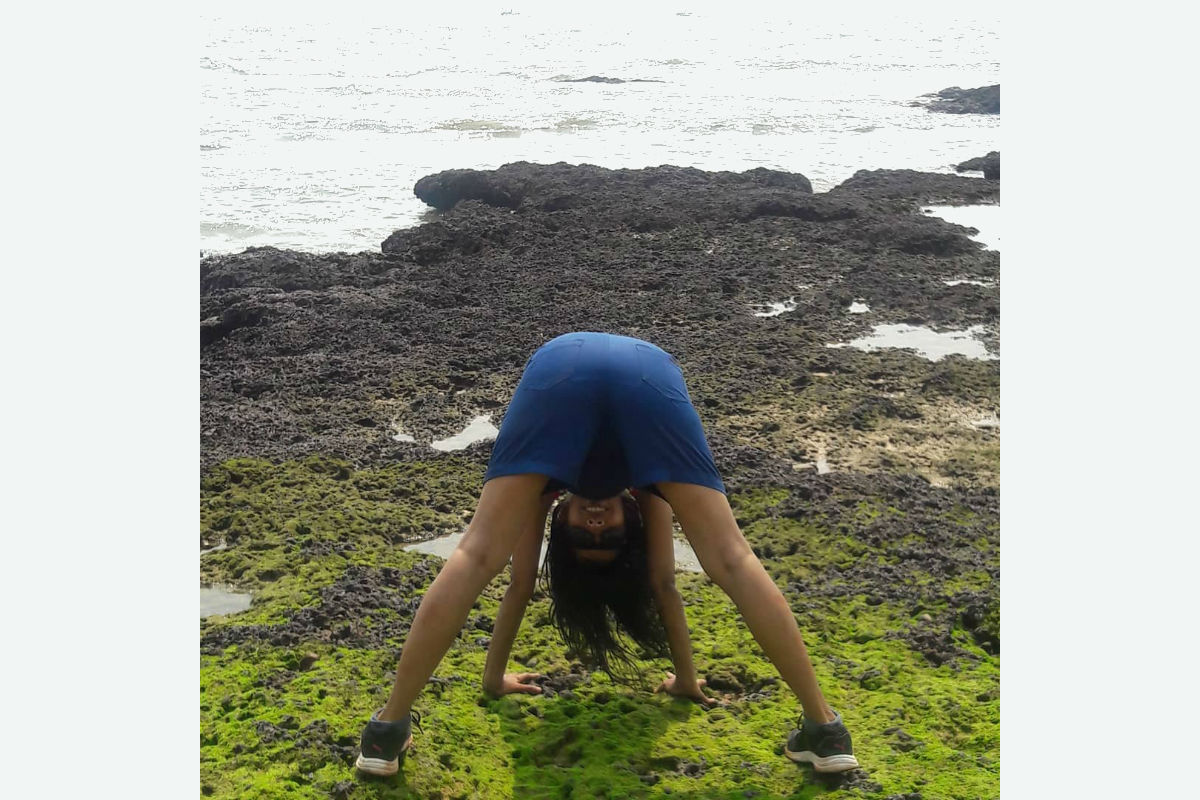 'Cactus' was very special in a way that few parts of the building wrapped around trees. This building had trees growing through walls. This is exactly 'effortless blending with nature'. A chat with our hosts revealed that natives do not usually cut down trees that come in the way of a building. The beach is well known for its food shacks and leaves no person hungry if they are looking for tasty, authentic food.
Every stray dog with a name longer than mine belonged to one of the 30 odd shacks thereby giving a good time for animal lovers. But for those who do not have a way with dogs, the growling and snarling among dogs to deter trespassing comes off as a bit scary. After all, animals are also good at marking their territories, their respective food shacks.
With Russian tourists outnumbering the locals, Arambol is also called as the Harmal Beach. It is a fisherman's village especially during November to March. Mornings provide any tourists with the usual beach sights and evenings are the time when every living thing comes to life with the drum circle as drummers from across the world gather in a place. From toddlers to senior citizens, people dance around till the lights go out and they grow tired.
Hundreds of candlelit tables in front of the shacks will make anyone sing aloud. The colorful flea markets are just a sight to behold. Torches, lanterns, and candles being the only source of light, shopping at these markets at the beach after sunset is a task. Striking a conversation with anybody will make that person a storyteller. Goa taught me the art of listening.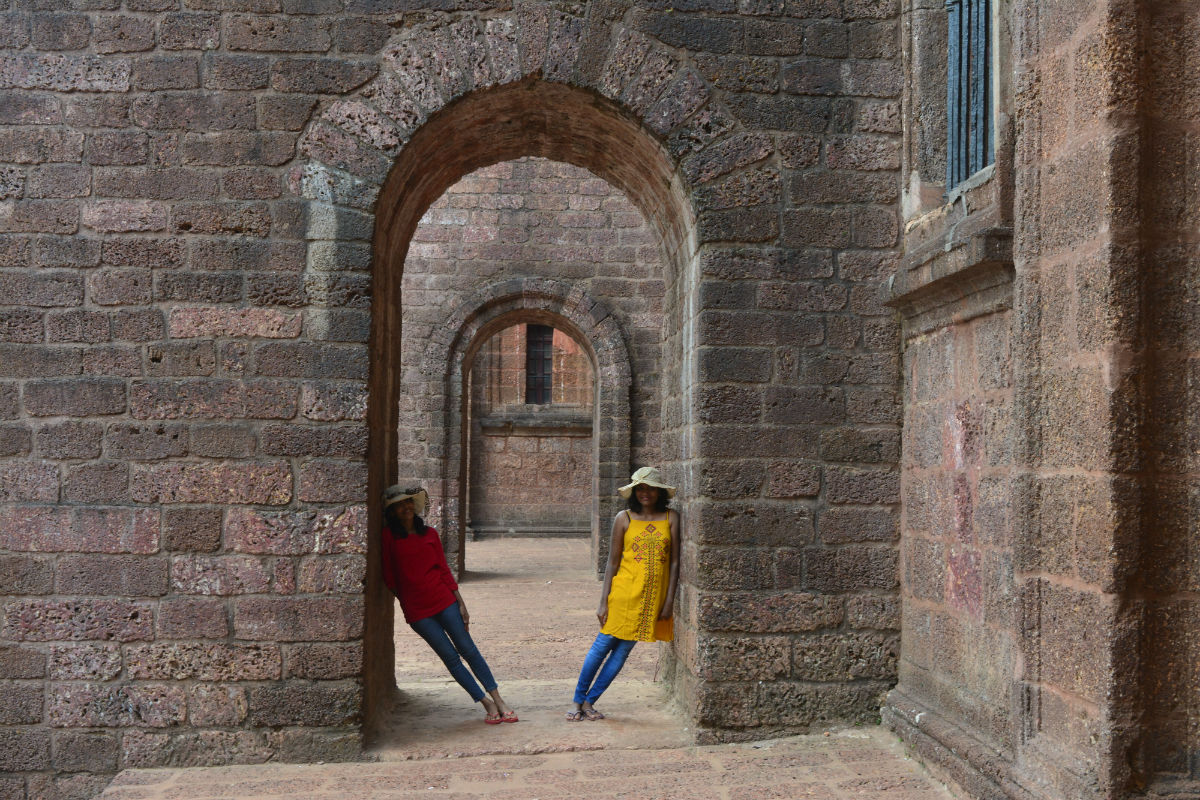 A stroll to the Paliem sweet water lake along the Arambol beach, shops, and beach rocks was so mesmerizing. Those waves cut rocks of Arambol are any photographer's delight.  It was indeed a long day and crawling when nobody was around seemed like the best bet. Any sunset is the best if it's enjoyed the right way at the right time just like I did. Riding and enjoying the sun and sands of all the beaches of North Goa at our own pace was thrilling. Every pit stop by a beach was like finding a happy mystery.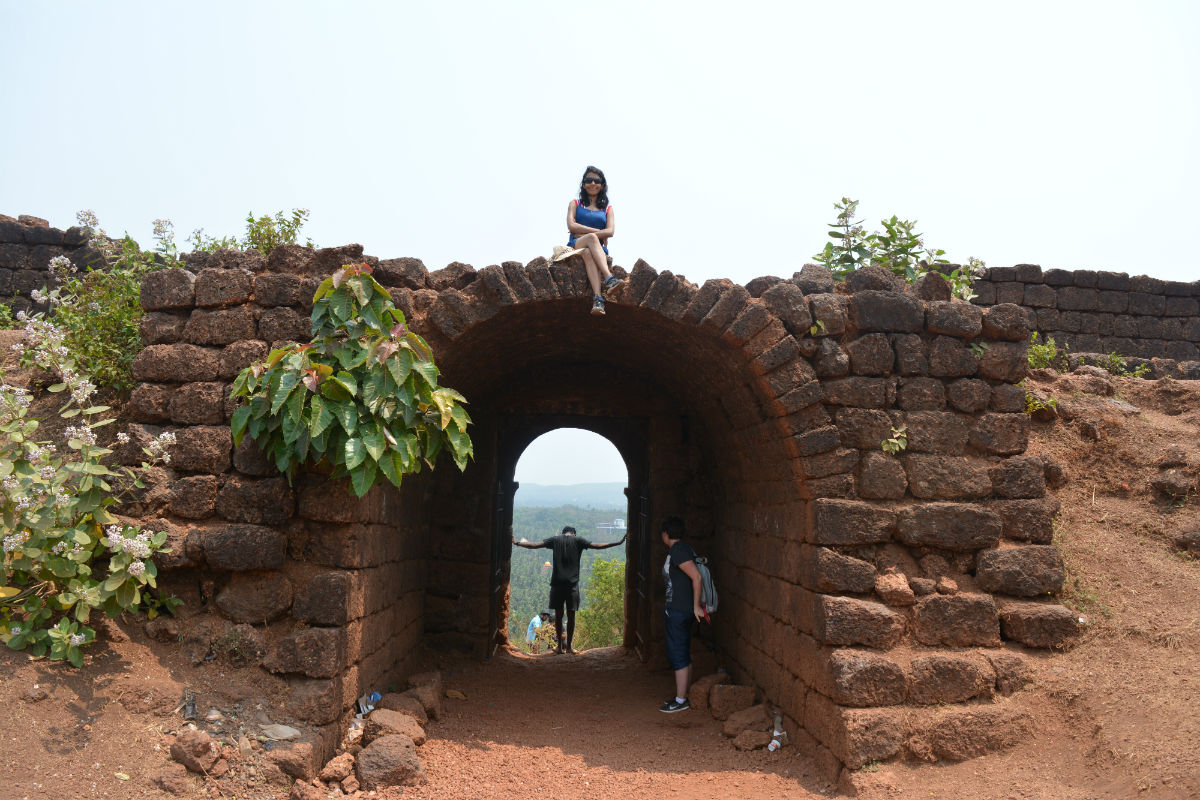 but, Goan beaches aren't just about the sun and sands.  Name a water sport and you play it. One beach after the other beckoned us. Every beach looked like a queen to us. Caught between the banana boat and the deep sea, I forgot how to act brave and poised, giving lifeguards jitters. 
Before we got back to the shore my fellow traveler Navina, also a scuba diver and snorkeler, informed us about the use and safety of life jackets. As a reply to my scornful look, the lifeguard told me the more someone begs not to push them into the water, the more he/she is pushed to make sure the boat ride remains etched in their memory. Minutes later Navina and a friendly waiter named Suri (Prabhu Deva look-alike) turned doctors to treat my bruises that were a result of my adamancy of not letting go of the hold as the lifeguards tried to give me a taste of adventure. Juicy stories and lip-smacking food heal bruises faster and Suri knew it best.
Walking the stretch of Anjuna beach, I posed for those special sunset pictures. Unlucky as always, the moment I started posing holding the setting sun into my cupped hands, the clouds rolled over and played foul. Fort Chapora looked like any other fort from its foothill. Climbing up the fort was so exhausting under the hot sun. Anybody can lose pounds of fat of by climbing up. Once atop the fort, a 360-degree view of the Vagator beach is assured. Thus, photographs from any part of the ruined Chapora fort will make a good display picture, be it WhatsApp, Facebook, or Instagram.
Climbing down, one will be tempted to just lie and roll down instead of trudging down meticulously in full fright. Once we climbed down feeling so victorious, indeed more than the one who built it, we enjoyed the ambiance of a stall that served tender coconut and lassi. Our discussion on how to improve Fort Chapora took a toll as a group of noisy, overweight men, women, and children barged in and ordered for tender coconut lassi giving that elderly couple a tough time meanwhile we killed time guessing from which part of India they had come from!
After the coconut lassi tamasha got over, the family burped, managed to stand up with a little effort after littering the entire place with cups and coconuts as if their shades hid the man-sized dustbins right in front of them. Maybe they thought the idea of 'Swachh Bharat' is only for the Northern parts of India.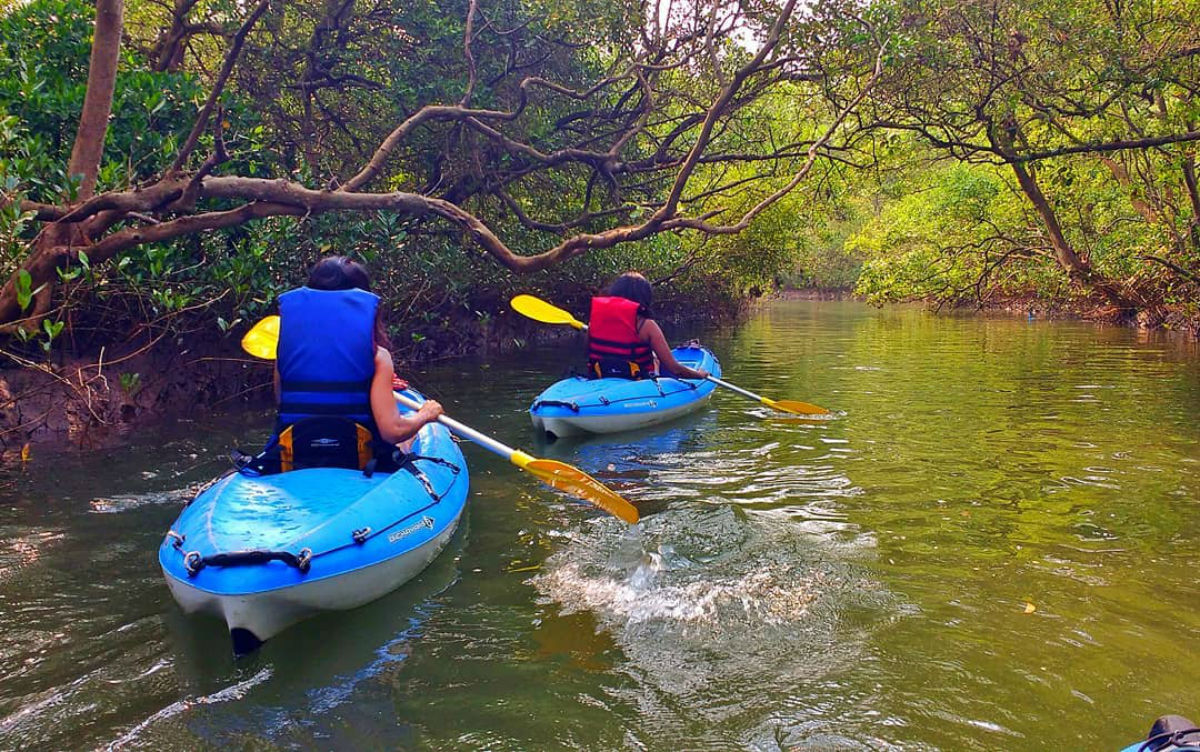 Evenings at Arambol were fun. One can transform into a singer, dancer, foodie, lazy bum, poet, writer, liar, lover, alcoholic, melancholic, and the list goes on. Anything one wants to be. Both of us seemed to be the only two adventurers at the Arambol beach who could boast of our escapades. Typical beach bunnies exploring the unexplored, attempting to attend a night party at the Riva Beach Resort in vain as our legs didn't cooperate with our mind after walking along the Arambol beach towards Riva for 3 hours straight. We tried singing as seasoned lounge singers, testing the patience of professional liars aka tarot readers, bargained till we dropped at flea markets.
We continued the legacy of us losing and finding our things at regular intervals, and are baffled looks that were looked upon as intelligent gazes drove away brutes, decoding lies and deceptions. We managed to get back to rest seconds before our mobile batteries died, lest we could have lost our way. These aren't adventures if you go on a trip minus an amigo. Every night around 11 pm our hosts welcomed us with the warmest smiles and kindest words, the reason we knew only on the day we left.
Not once or twice or thrice, they ended every other sentence with "Both of you were our well behaved Indian guests who returned early every night".  I grew up in a house in a village where anytime after sunset is 'late' and probably that's the reason Goan evenings seemed like an adventure to me. Becoming known around the beach shacks isn't a difficult job. Just order for fresh fruit juice all the time you feel like drinking something and be bold enough to say you are allergic to smoke, you will become the talk of the vicinity.
But had Navina not persuaded me, I would have missed the eventful evening cruise aboard the Royal Princess. What shall I boast about! The illuminated view of Panjim city, the live music, rocking DJ or the artists! Well, minutes after the boat began to sail through the Mandovi river, I knew I could be that 'Star' for a night.
After having the dais all to myself for a mere 15 minutes I realized what I was told as a child, 'Dance like there is no tomorrow and nobody is watching'.  Watching my bestie in the front row cheering me up gave me an adrenaline rush. Offstage, people on board did make me feel like a star, a princess who stole the show.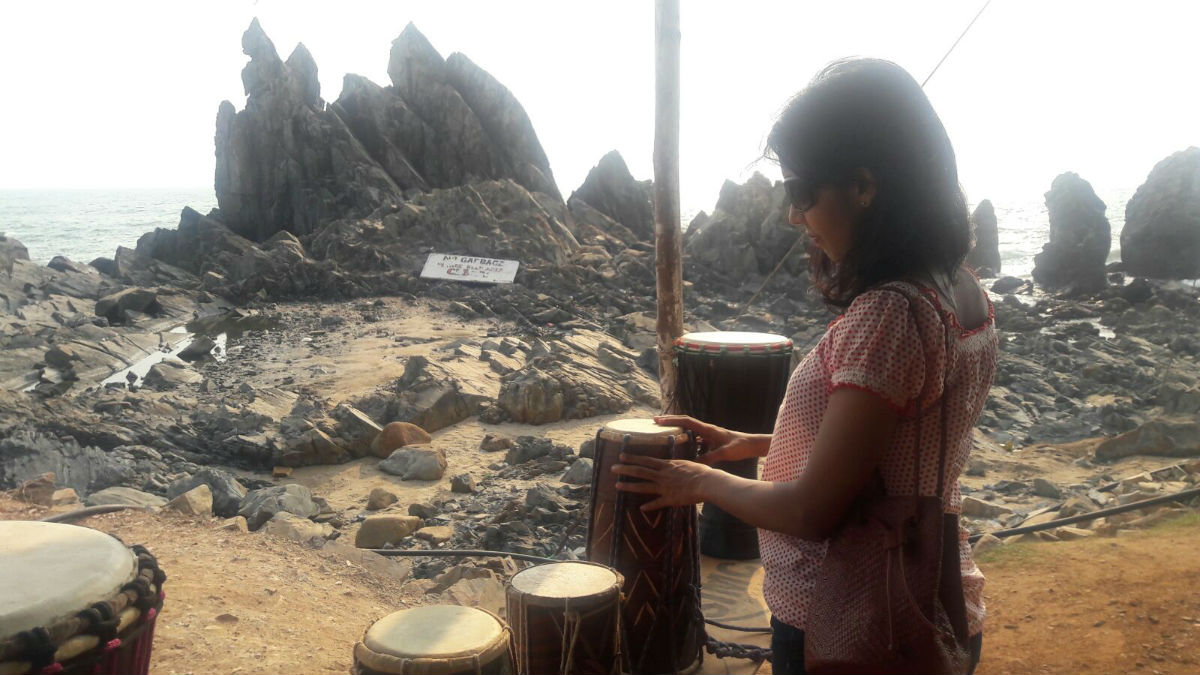 Kayaking across the Mandovi River, through the mangroves, dodging the roots and sea hollies, we got a glimpse of the Salim Ali bird sanctuary. We had the pleasure of birding by ears, all possible because of Ashwin Tombat and Anil Pandey – the two friendly, professional and experienced guides. They dispel all fears of depths, waters, heights, crocodiles, sharks in no time with it, reasoning and information.
Ashwin had put me, a doctorate degree holder in mangrove associated fungi, to shame with the amount of information he had on mangroves and its associated fauna. Anil Pandey regaled us with stories of his past and present that we totally forgot that we were first-time Kayakers. Two hours of kayaking went by in a jiffy. Back at the shore, I was sure it wasn't just kayaking but also a rendezvous with two beautiful humans that made it a unique experience.
After relishing the fish thaali at the Copperleaf restaurant, all the meals seemed so incomplete and unfulfilling to me. Just because they couldn't serve the caramel custard the way I wanted it, we were pampered with roses. That whole day I wore them behind my ear in memory of how special I felt, and was photographed in return for honest feedback.
The ferry ride to Divar Island was a completely diverse experience from what Goa has to offer. A combination of anticipation and thrill after reading reviews of the island, its history, dilapidated and uninhabited houses and several old churches, chapels, and temples made the ride more exciting. Off from the ferry, we weren't sure of where to head. So we spared the Google map and rode randomly through the quiet, clean roads and streets, sometimes trailing back to the same path.
Indo- Portuguese architecture was vivid tempting us to pose but those watchdogs in every home deterred us. Abandoned houses outnumbered inhabited houses. Every house was unique. Bougainvillaea shrubs with red, white and pink flowers were the only common thing that adorned all houses, old and new, big and small, abandoned or inhabited. Quiet and peace prevail in spite of visitors from across the world thronging Goa. These shrubs not just add on to the beautiful, well cared for flower gardens of every home but also do their bit as symbols of welcoming visitors & beauty and of peace. Abandoned houses seem to tell stories of the old.
Being a sentimental, emotional and highly imaginative person I found it really hard to just pass by abandoned houses. Many a time we stopped by, gathered all courage to ignore weird looks of natives and wade through the overgrown bushes, peep inside broken or closed doors and saw dusty antique furniture. More heart wrenching was the screeching noise rusted gates of such houses made when I closed them behind me. Name plaques still hold the names in bold and clear.
Haunting yet beautiful were those abandoned, uncared for mansions, cottages, and houses. Devoid of life within, peeling walls speak silently of stories of people who once lived in them. Impressive facades beautifully connecting to the name on the plaques has its own charm.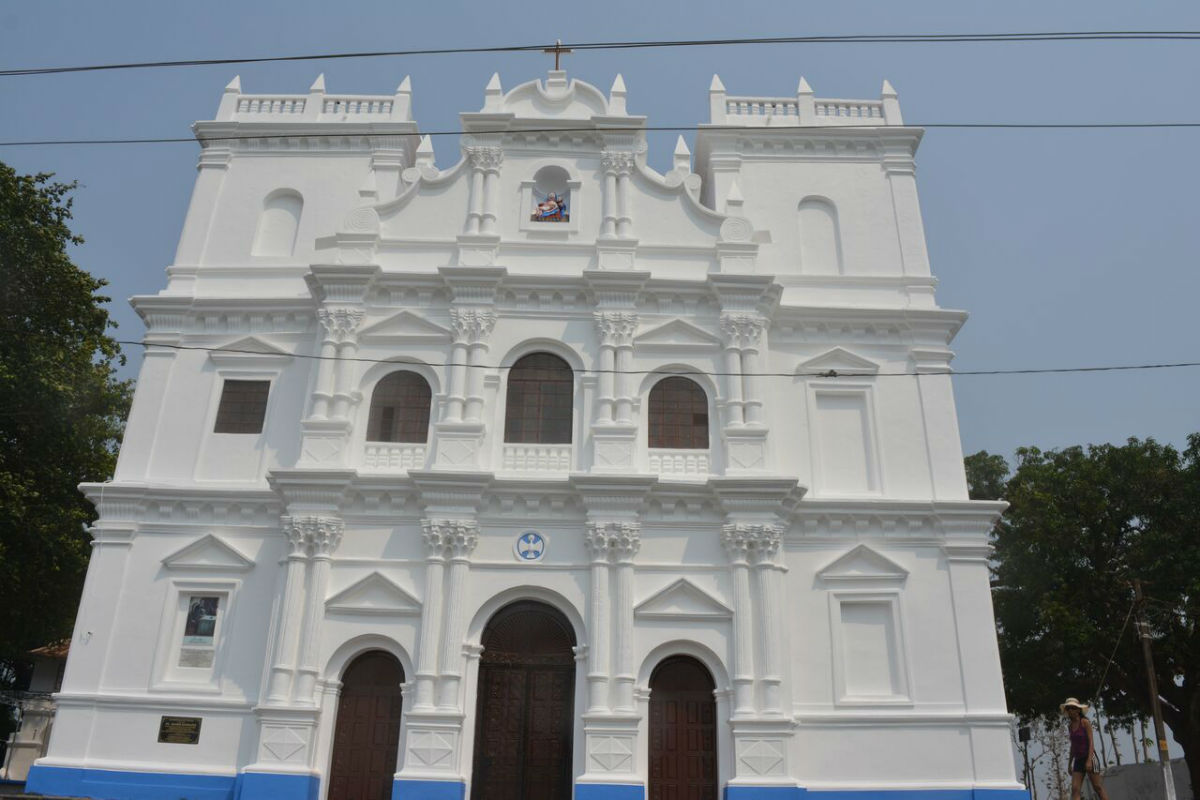 On spotting 'Our Lady of Piety' Church, we realized that we were in the Piedade village of Divar. The story of the saved captain, the bell of the sunken ship that adorned the belfry of this church and why the bell was exchanged with that of Se Cathedral is one that is hard to forget.
A ride to Old Goa was worth all the sun and tan for such was the magnificence of cathedrals and museums. The only one I remember is the 'Basilica of Bom Jesus'. Probably the word 'BOM' is the reason. There was a special aura to it – the silence, veneration on the faces of tourists, the absence of clicks and poses inside, the mortal remains of St. Francis – we were awestruck by the stories of his miraculous healing powers and the way I visualized the solemn exhibition of the Saint's body once in ten years.
Everything seemed to be just another part of travel & visits till I reached the place meant to 'light candles and make wishes'. All the 8 candles in my bag were partly broken but we didn't lose heart. Amidst the crowd, both of us were given enough space to light our broken candles that can't be placed straight. For every candle, I made ten wishes, waited till they burned out and my purpose of being at 'Bom Jesus'.
Walking inside museums that had 'Silence please' stickers & signs was like being inside a university library.  A mural or a portrait or a sculpture dragged me to the past. Museums are time machines. If at all something intimidated me at the Archaeological Museum, Old Goa, it's the statue of Portuguese poet Luís Vaz de Camões.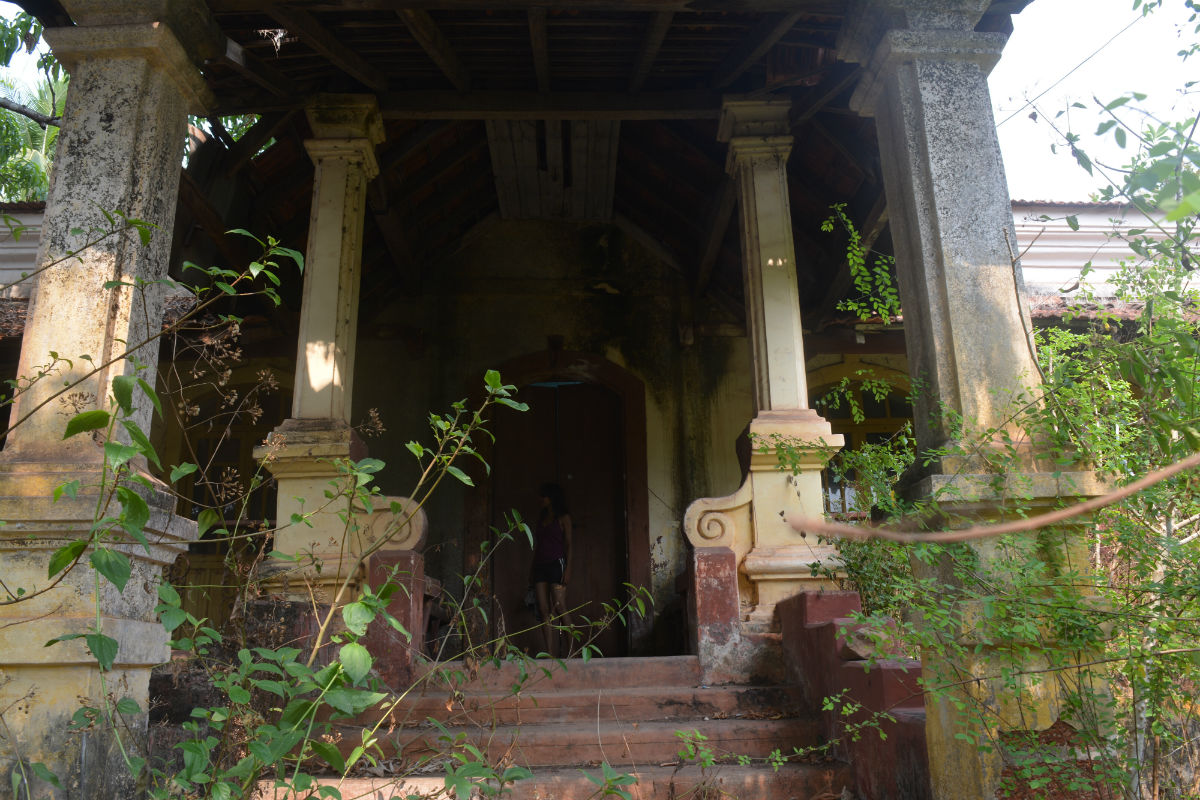 The small shrines in every nook and corner served a purpose. I can't name all that I saw as I got lost in the serenity and beauty of quite a few places and I failed to record details. Places were different in their landscape with their unique charm. Each basilica, cathedral, chapel of Goa, old and new, draws on strong Mughal, Indian and Portuguese architectural traditions which were intended, hundreds of years ago, to affect every visitor's experience. Also because, soon after stepping inside a church, your smartphone and camera are to be in sleep mode.
Not to mention the magnanimity inside most of these places of worship display the Baroque style architecture. Whether many agree or disagree, those magnificent Goan churches look like a legacy of Portuguese colonization. From buildings as a whole to small corners to windows, everything in Goa echoes peace and beauty. My only prayer remains, 'Let not hippies, pushers and litterbugs destroy the elegance of Goa'.
With the taste of Copperleaf's Sol Kadi still lingering in my mouth, four nights and four days weren't enough to cherish the whole of Goa. Who wouldn't love to wear Copel (fancy coronets made of fresh and fragrant fruits, flowers and leaves)! Hence, we await Sao Joao.
TEXT: Dr. Elsa Lycias Joel
IMAGES: Navina Joseph