The life is not easy as a bed of roses to everyone. Some are born with the silver spoon in their mouth, manoeuvres the life easily compared to ones who are born in the middle class or poor family. I do not mean to say that rich people do not struggle in their life but what I want to put across here is the resources are not available to the poor as much as to the richer section of the society, especially in our country. Here I am going to narrate the story of a girl who despite all the hurdles in life came out as a winner at the end. She achieved what she wanted in the life facing all the hardship of life.
Shraddha Gawandi, a small town girl from Pernem village, completing her post graduation in Arts taking Marathi as a major subject and presently doing her B.Ed at Farmagudi so that she can become a teacher. She is not just a studious person but she is also actively involved in the theatre drama and social activities that help others. Today she has attained whatever she always dreamt of being but the journey to this was not easy for her. She faced the opposition from her own mother while attending the theatre and even her higher education she funded by her from theatre work.
Basic education of Shraddha was funded by her father while she attended the pre-primary and secondary school in her village but when she came to St. Xavier's College in Mapusa for the higher education she had to fund her own tuition fees and books from her own earning which she had put into the saving which she earned from her theatre to which her own mother was opposing.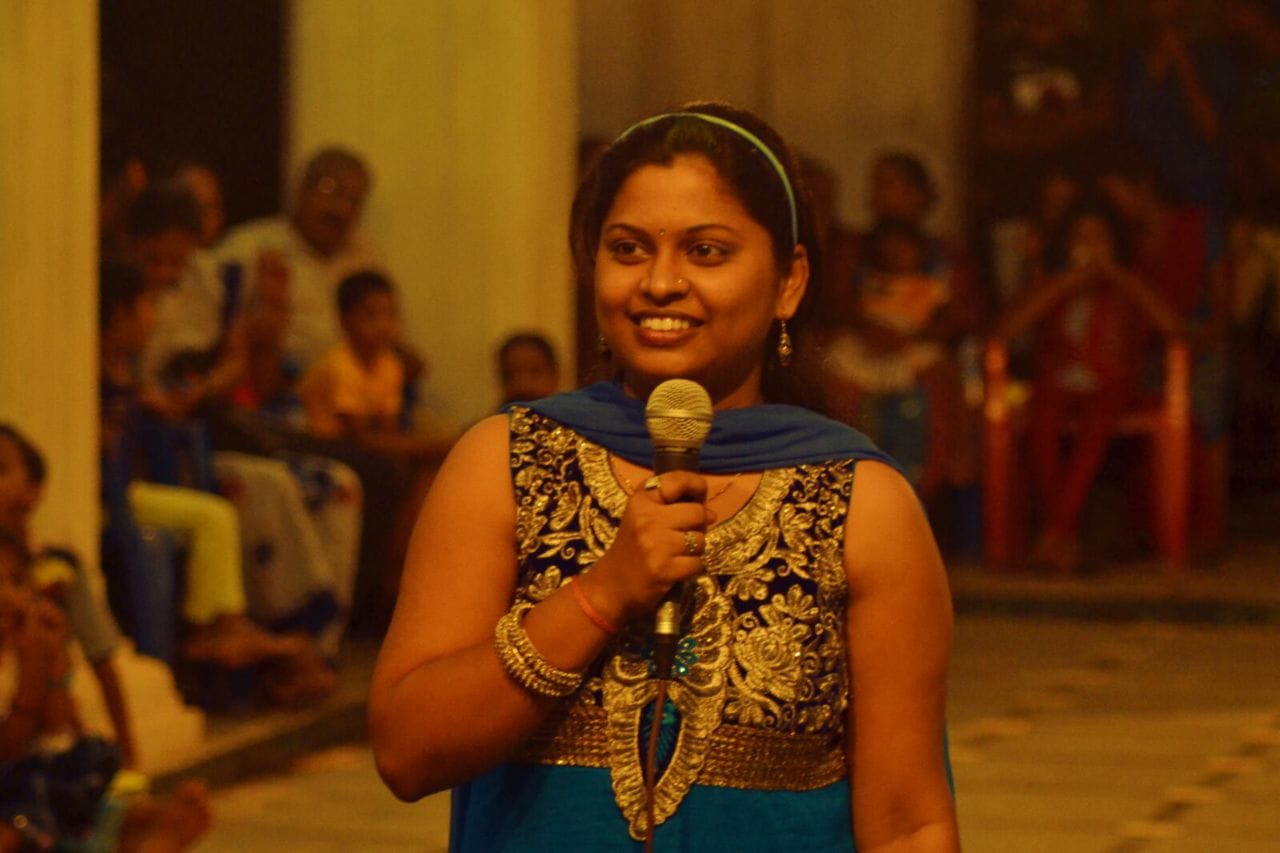 The story of Shraddha is very interesting and aspiring for the students of a new generation who takes life very lightly and makes the BEST use of their parents funding for the purpose of entertainment and socializing. Shraddha belongs to a middle-class family and her father is a government servant. "I come from a Middle-Class Family, My Father is a Government Servant, he works in The Electricity Department as an Operator and my mother is a Housewife, but she's also an artist by hobby who does clay modelling," said Shraddha.
According to Shraddha, her acting skills are coming to her from her father although her mother is also an artist Shraddha believes that her father is the one who used to take part in Dramas/plays at the village level gifted her talent of theatre. "Well, it comes actually from My Dad. He is an Actor and he used to take part in Dramas and Plays," says Shraddha.    
Besides being the talented performing artist Shraddha also exhibits her interest in writing. According to her the writing talent in her is self-developed as a result of continuous reading. "Writing is a skill that I've developed on my own. Reading novels and books fascinated me. I've always had this in my mind where I would feel the need to write on certain topics that needed attention. The topics, such as Corruption, Current Affairs, and Social Issues always compelled me to write. The recent case of Bridge collapse in Maharashtra made me write the poetry and one-act play. I Actually Wrote a One-Act Play which I, later on, got a chance to Showcase at the camp which was organized by "ANTRUZ GHUDYO" which is a Theater Based Personality Development Camp. There Along With a Few More people I enacted out My One Act Play. I Usually Express Myself by writing Poetries and also Small Dramas and Plays," she said.
According to Shraddha, her primary education was completed at Shree Bhagavati High School in Pernem. Later she completed her secondary education at SFX School at Siolim. "The reason behind shifting to the SFX was due to the available facilities in that school compared to the village school of Pernem. Actually, I wanted to continue my education in Pernem where all my friends were, but my father felt that the education level in SFX was better than that of schools in Pernem then. I joined The Arts Stream in SFX. From my childhood, I was interested in co-circular activates such as Elocution, Fancy dress, and Acting in dramas. And I won many Prizes at the school level. At the age of 13, I performed my first professional drama with my Father, where I earned my first payment of Rs. 1500/-. After doing the drama I started receiving many offers, but my dad did not allow me to participate in those plays," Shraddha narrated adding that "The only permission I used to get to was the participation in the competitions and nothing else. I've won a Marathi Play Competition which was organized by THE GOMANTAK MARATHI ACADEMY after which I started getting lots of offers for plays. So Up till Class 12, My Father Handled my Education, but after that, I started funding for my education on my own. My father wasn't here in Goa during the time of my admission into College. I Joined Xavier's College, Mapusa where I took to majoring in Marathi as it was my Passion to get to learn it more and more. I managed my Admission on my own. I graduated from Xavier's College Mapusa. Currently, I am Pursuing a Bachelors in Education which is a Two Years Course."
Later on, Shraddha came in contact with Rahul Kamat, who runs the social group called "Gangs of Youngsters" that funds the education of the needy student. Rahul Kamat is the same person whom we covered in the last month's issue in the young Goa section. "I have been participating in many competitions as I had mentioned earlier, so eventually, I came to know of Rahul who was in search of someone that would represent Goa at a Youth Festival and my name was suggested to him by one of my friends for the event. I had already registered for the event on my own as an individual participant but Rahul asked me if I would like to represent GOY at the Event to which I agreed. At The Event I won First Place for Fancy Dress, Acting Competition and also The Elocution Round," she said.
Shraddha has a dream of becoming the teacher after completing her B-Ed from the college in Farmagudi where she is pursuing her studies at the moment. "Career-wise I want to become a Teacher. Drama is my Hobby and passion which is a secondary thing but nonetheless, I love Acting but I still want to become a Teacher Majorly," said Shraddha with complete determination.
Although Shraddha will take up her career in the field of education sector her passion for acting will always remain with her. According to her, one need the steady income source and that comes only from the sturdy job which she feels is a school teacher and in her spare time, she will keep performing on the stage. According to Shraddha, she is a good actor but she is a very bad singer. "I am a very bad singer and the reason behind feeling this way is the bad experience I've come across while singing in a Drama which wasn't my cup of tea. After having that bad experience I never took up to singing again after that incident. It sort of de-motivated me at that time. So Ultimately I never developed any passion for singing in drama after that," she said.
The example of strong personality comes out from the type of situation one faces and comes out as the winner from it. The case of Shraddha is not different. Although she struggled throughout the time she never complains about it at all. "I have never felt that I am less privileged compared to the others. According to me, the struggle is a part of life and I have never complained about it. I love to face the challenges in the life since it only by facing the challenged person comes out as the winner in the life," she said.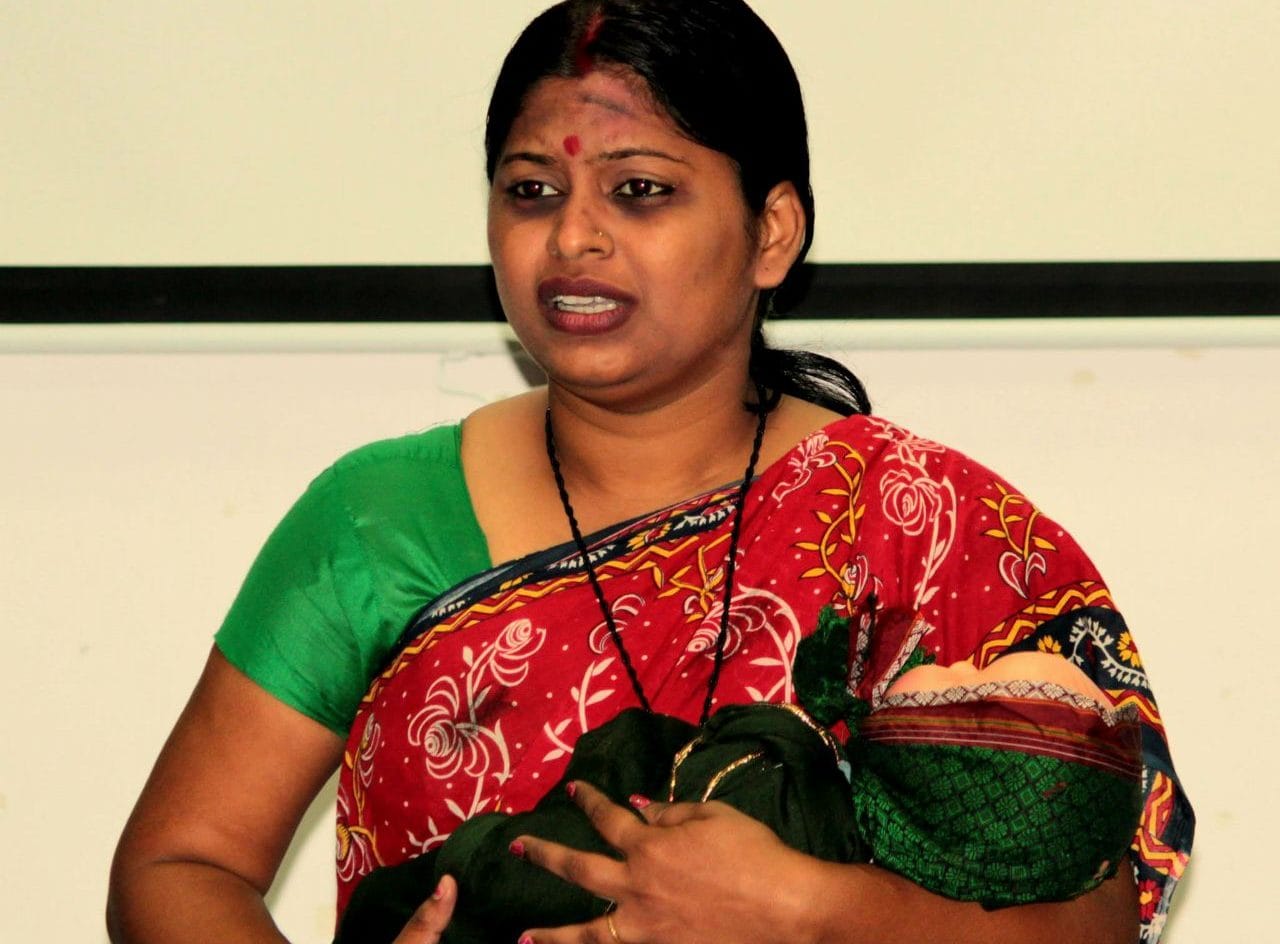 Shraddha believes that teaching is her main motto in the life as she wants to create the better citizens of the future from her philosophy. "Teaching is my main aim in life, and I want to bring a difference in the field of education and I will surely do it by way of my teaching methods when I become a teacher. I believe I can make a difference in the life of a student who actually needs help. Every Student is Different from the other, and in this way, I want to be of assistance to every such student who needs motivation and support. Be it Acting, Signing, or Dancing, Or any other field for that matter. I will make sure they get the support they need," she said.
As I mentioned in the earlier paragraph about the disagreement of Shraddha's mother to her acting in the drama Shraddha continued to pursue her passion. "My mother was completely against me working on the stage. According to her, the girls working in the theatre was not a sign of a good culture. People look at it from another angle. Today I am completing more than 12 years in my stage performance and achieved the success too but her point of view hasn't changed yet. I am trying my best to convince her that the drama field is not limited to one gender and world is changing and we also need to change the world. She still opposes my endeavours but I am sure that one day she will realize that girls also can work in the drama and maybe then she might encourage me," said Shraddha.
It is due to the full support and encouragement of her father that Shraddha still continues to work in the theater. Shraddha gave one more example of how people react against the one's hobby or passion when their results drag down. "While in the 10th board exam I got only 59.31% and it became an opportunity for my mom and my relatives to blame on my theatre activities. That was the time I decided that I am going to prove that while doing my theatre I can still achieve the good academic score. I studied very hard and in 12th Board exams I got 73% and I passed in my graduation with 75%," said Shraddha.
The above examples show the level of determination that Shraddha possess. The girl who could not get first class in the SSC received the felicitation from St. Xavier's College in 2013 as the "Best Student of the Year" the big success in the life always comes from the big sacrifices. Shraddha sacrificed a lot to achieve her dreams and pursue her passion. "Once my family was going out of the station on vacation and that time I had an assignment of drama in my college. I had to decide between the family vacation of drama and I chose to stay behind alone at home for drama practice and not get with the family," said Shraddha.
According to me, the new generation youngsters need to take an example of Shraddha and follow the hard way to achieve the success. There is no gain without the pain is an ultimate truth.