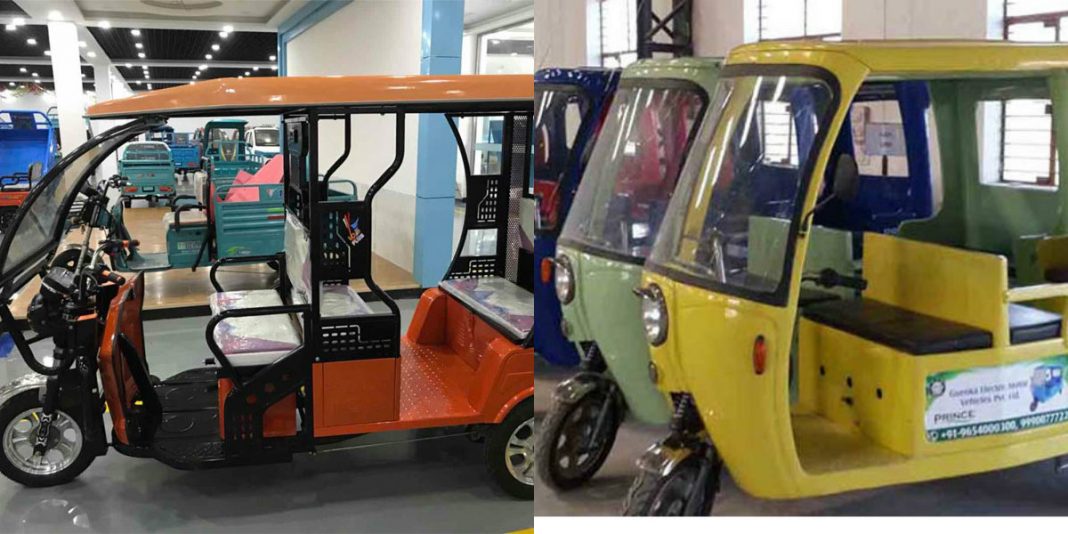 With the rise in the levels of pollution, a lot of efforts have been made to come up with alternatives that are nature-friendly and affordable. In recent times, pollution due to vehicles is causing major concern.  As a means to curb this, e-rickshaws have been surfacing in many states of the country. Although talks of launching this "Green vehicle" we're going on from past few years, finally this green-initiative will be soon launched in Goa.
In the recent news, the Messiah Multipurpose Co-operative Society Ltd of Curchorem on Sunday, launched e-rickshaw services in Curchorem and Quepem which is the first of its kind in Goa. According to The Goan, Chairman of the co-operative society James Fernandes said that, the environment is paying a heavy toll as a result of pollution and that, maybe in the next 5 years or so, Goa also would be facing air-quality problem like other states in India, therefore, it was high time to go for technology, and e-Rickshaw was one concept that can take care of public transportation which is also cheap. 
These e-rickshaws are eco-friendly, noise and pollution free and most importantly, reasonably priced public transport option and come in two models: the first one being worth of Rs. 1.55 lakh called Mayuri-Delux and the other one worth Rs.1.7 lakh called the Mayuri PRO. With an ability to cover the distance between 70 to 80 Kms, these vehicles can carry four passengers.
Fernandes stated that the models have been approved and also has obtained clearance from RTO. A normal 4-wheeler driving license is sufficient enough to drive this vehicle and is bound open the gates of job opportunities to many. According to Times of India, this e- rickshaw does not have any road taxes levied on it and has been modified with the addition of a windshield and wipers, to suit local climatic conditions. 
The E-rickshaw concept has already gained momentum and people are showing interest to this vehicle which will be on road by next week. Many of the present rickshaw drivers and motorcycle pilots are showing interest in this vehicle. It is reportedly stated that the MMC society will give loans to procure the e-rickshaw to the members of the society which will help boost employment.
Speaking on the issue of unemployment present in the state, Fernandes said that the introduction of these e-rickshaws is helpful in providing self-employment opportunities to the Goans. He stated that anyone can avail this vehicle and that they are not into competition with anyone but instead introducing an environment-friendly and pollution free transport for the benefit of public and environment. 
The E-rickshaw which works on four batteries with 48 V100 amp, comes with a built-in charger that can be connected to normal plug point and takes around 7-8 hours to completely charge. The fact that E-rickshaw in Goa will reduce pollution and also provide livelihood to the youth is bound to make this concept a much bigger hit among the citizens of the state.
The Rickshaws in Goa charge fares a bit on the expensive side, these e-rickshaws are said to charge reasonable fares and is bound to give a tough competition to the normal rickshaws. The green-concept is likely to make citizens feel more drawn as this initiative helps to protect nature and conserving fuel. More such initiatives are necessary to be brought up in order to help curb pollution and protect nature.