Anastasia D'Mello, the little drummer, as everyone calls her lovingly in Goa, is one of the youngest and most talented drumming artists. She is well known in Goa's Performing Arts and music fraternity. With a certificate 8 level distinction from the Rock School of Music, this young and charming artist is all set to conquer the music world. She specialises in the western classical genre. A soft-spoken and humble young artist, she shares with us her success story.
"What would you do if you were handed a pair of drumsticks at an age as early as 5 years? The innocence of that age will make you play around with the sticks making every object your drum kit," she shares laughingly. But not Anastazia- she knew at the onset that the sticks were important and she just started off hitting the drums, surprisingly in rhythm. It was her father's aspiration that his children should learn music, which made him hand over the drumsticks to Anastazia and let her explore.
Music runs in her family; her father San Antonio D'Mello is the founder of the prestigious, well-known music school – Taught to Teach Music School in Mapusa. She has two siblings Felicia D'Souza and Eustacia Lobo – contributing relentlessly to music and making a name for themselves. In fact, Felicia is a known bass guitarist in the Goan music arena. She is the first artist in Goa and India to clear Level 6 in music performance (LRSL) from the Rock School of Music. Anastazia loves travelling, and her love for music pulls her to places of musical importance. She is currently pursuing a course in music – ATCL (Associateship diploma) – from the Trinity College, London. This would open doors of opportunities for her at an international level.
Anastazia learned to play the drums under the guidance of her father. She showed the inclination towards the instrument at a young age of nine. She shared, "It all began with the participation in a few music competitions in Mapusa where I won first place for my solo performance. The rewards inspired me and made me realise my love for the drums. And that's how my journey began." Since then, with dedicated efforts and increasing passion for the drums, she started training herself to specialise in them.
Anastazia received a lot of encouragement and support from her family from the beginning. She said, "Initially I was apprehensive because drums were an instrument meant only for boys. So even in school, when I used to go for my music classes, I was the only girl who would pick up the drumsticks. At that time I was laughed at, and it made me very feel nervous and embarrassed. I had almost given up playing because of this experience. But with time and support from my family, I gained confidence, I was determined to continue." She adds, "My father has been a pillar of support throughout – not only to me but even to my sisters who also learned music from him. It is because of him that I am where I am and I completely owe my success to him." She also added, "I give a lot of the credit of my success to my music teacher Lester Godinho who saw the enthusiasm in me and taught me different styles and to control the sound on the drums. He helped me polish my skills and take it to a world-class level. I have been able to perform at international concerts and with international artists because of him."
Being an active musician in school – Spring Valley High School – and in college – St. Xavier – Anastazia won many competitions and received laurels for her institution and herself. She works hard with dedication to polish her skills as a drummer and practices 2 hours every day which often go up to 5-6 hours during her performances or examinations. But all throughout her education, she never ignored her academics. Not only is she an ace drummer, but she also learned to play the piano, guitar, and saxophone. She was also part of the college band at St. Xavier and participated in various inter-college events.
Today, Anastazia teaches children to play the drums at Taught to Teach Music School. Her profound interest in spreading the art of music to others, especially girls, made her become a music teacher. Anastazia's dream is to impart her knowledge to young talent who otherwise had no inspiration or platform to learn or excel in the field of music. She wishes to set an example for all girls who are keen on learning this art. She says, "I want girls to understand that there is no field in which they cannot contribute to, even if it is a male-dominant one. If you have the passion and dedication to move forward, don't stop. You will always find someone who will hold your hand and encourage you to move ahead. Always believe in yourself and keep saying to yourself – you can do it. "
Anastazia has been a teacher for over 14 years now and has taught close to a hundred students.  "Kids today show so much eagerness and enthusiasm towards music. And because they are fortunate to have multiple platforms at their discretion, they want to learn everything very quickly. It is a joy to teach them and to see them grow. I have so many students who have progressed so well and won laurels for themselves. I feel proud," she shared with a sparkle in her eyes.
When asked about her future plans, she said – "I am planning to open a college of music here in Goa that will give a platform for young talents to learn and grow. Most of the good music schools are outside of Goa and the children who are keen on learning music either spent an enormous amount to get admitted to those schools and leave the Goan land. Our institution will not only provide them training in music in their homeland but also give them an opportunity to participate in shows and competitions at a national and international level."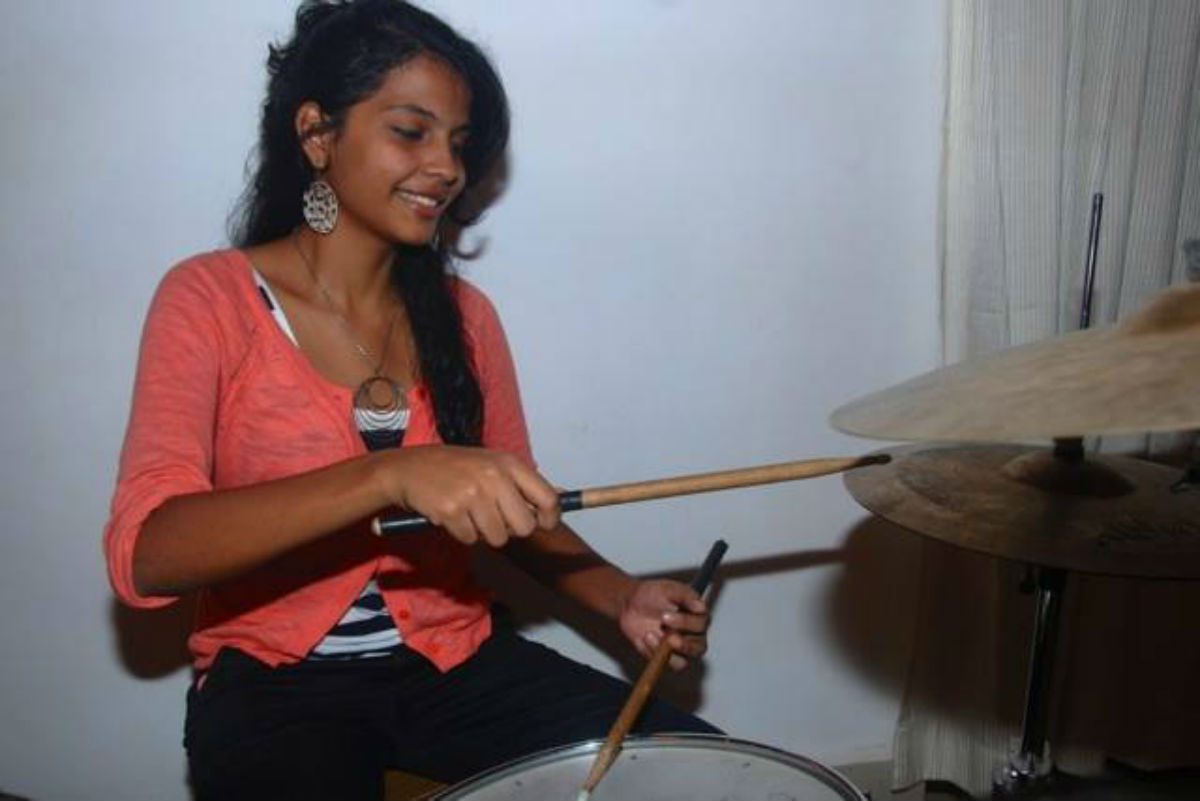 Anastazia has been participating in many national level events where she got a lot of recognition. Her performance won her an award while playing with an all-women fusion band at the Paschim Rang Festival, a Western-Indian music festival held on Women's Day in Margao. She also got lot fame for her spellbinding performance at the International Jazz Day in Goa where she performed along with Colin Cruz and Jason. A pre-recording of her drum solo 'Island Magic' went viral on YouTube and her performance at the Spirit of Goa Festival in April mesmerised the crowd. She is a sensation.
Anastazia D'Mello has set a benchmark for the new generation, especially girls to live their dream. She has created a stage for many young girl-drummers to come forward and become a star. She believes in girl power and sends out this strong, inspiring message to all girls in Goa and around the country, "If you believe in yourself, you can achieve it."