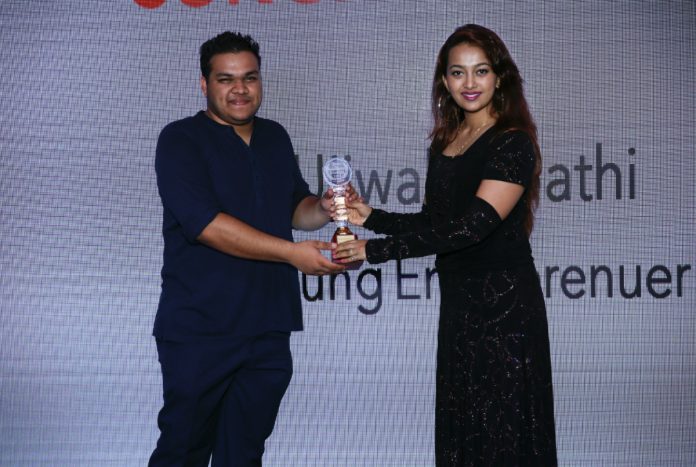 Culinary skills and the art of food making is a profession that involves hard-core passion and in-depth knowledge. Today, chefs around the world are improvising the style of food making combining science with food in their kitchens to present out-of-the-box cuisine that has never been platted before. Ujjwal Tripathi, an aspiring and an experimental Chef in the making, shares his immense passion for cooking fusing new techniques with chemistry as the base. His inclination was always towards the art of cooking and used to follow all cookery shows and read articles by famous chefs around the world.
Here, Ujjwal, talks about his passion for food and how he plans to extend it into his career in culinary in the future.
Ujjwal Tripathi, a fairly young but wise boy, believes that to follow your dreams and achieve desired goals, one has to be 100% sure and realistic. Being quite practical in his approach, he feels one should have a solid plan and proof in place for your future. "A concrete plan added with success rate of your beliefs is the only way, I believe, can make a person fail or succeed in the mission he is setting forth," says Ujjwal. This young chap has the genes of a hardworking, self-made successful entrepreneur parents Namita and Deepak Tripathi, who worked their way up the success ladder with their strong beliefs and determination to achieve their goals.
Ujjwal follows their league and wishes to pursue his passion for food. With science as his major in school, Ujjwal never imagined himself becoming an engineer or a doctor. He was inclined towards trying new things with food and enjoyed following renowned chefs who have mastered new techniques in the art of cooking.
Lateral thinking – The new mantra
"Don't follow something because it is trending or someone told you so. Be practical and follow your passion sensibly and with full dedication", advises the future Chef. Ujjwal is a well-learned boy and has an in-depth knowledge of his field. His will to learn and study about new methods and techniques and how one can combine science with food is immense. There are very few chefs around the world, especially on India, who are into experimental food. The likes of Heston Blumenthal who is a trendsetter in the invention of recipes using multisensory food and flavour pairing scientific methods.
Ujjwal has a list of people who inspire him and who have mastered the art of cooking with techniques. To begin with – Chef Abhiru Biswas is the Technical Advisor for Barry Callebaut's Chocolate Academy in India, and a leading chocolatier and patisserie Chef who is part of the prestigious Chocolate Ambassador Club of the world. Ujjwal got the opportunity to work and train under him for some time in Mumbai. Next, he ardently follows Jean Pierre Wybauw who is a renowned Pastry Chef, was the Technical Advisor and an Instructor to professionals at Barry Callebaut Worldwide and currently teaching at the French Pastry School for the last 6years. Chef Rodwin Rodrigues, who is a Pastry Chef at his college VMSIIHE. He has been following the readings of a Dr. Jordan B Peterson, a well-known Clinical Psychologist. The book by this doctor – 12 Rules of Life: An Antidote to Chaos – has made a considerable impression of this young to-be Chef and vouch for a life-changing experience after reading it.
He specially mentions his father Mr. Deepak Tripathi who has been an encourager and a pillar of support to him and his dreams. Also, his mentor Professor Irfan Mirza – Director, V.M. Salgaoncar Institute of International Hospitality Education, who he admires and learnt extensively under his guidance.
Ujjwal has recently completed his graduation in B.Sc. – International Hospitality Management at V. M. Salgaoncar Institute of International Hospitality Education (VMSIIHE), Raia. He is currently writing a Paper which will be getting published soon.
The Future Restauranteur in the Making
Success has already started to kiss his feet. Recently, Ujjwal participated in the pre-plated dessert challenge organised by the Food and Hospitality World (FHW). He was the winner in this category and received a Gold Medal in the presence of the Chefs from the Culinary Forum of Goa and the organisers from Food and Hospitality World (FHW). The competition took place at Dr. Shyama Prasad Mukherjee Indoor Stadium, where students and professionals seized the opportunity to showcase their talent and present their masterpieces to the jury. Ujjwal shared, "The dish I created was based on Symphonie de la Mangue which interprets to the 'Symphony of Mango.' The dish celebrates the fruit Mango and highlights its complementary flavours and textures. The dish contained an almond financier glazed with freshly pressed almond milk, white chocolate, saffron, roasted coconut flakes topped with caviar which was made from fresh Mango juice and Cointreau. The dish was served with a velvety passion fruit mousse with an added bite of Campari, Anise poached Mangoes and Gulmohar flowers along with a shortcrust crumble for crunchiness." The highlight of the contest for Ujjwal was that he was the only student who participated amongst the industry professionals. It undoubtedly was a special win for Ujjwal.
Ujjwal also won another contest that was organised by Nestle Professional Mumbai and Agnel Institute of Food Crafts and Culinary Sciences, Verna Goa. It was their annual hospitality student's culinary, bakery and bar challenge known as Nestle Gastronomix 2017. The Judges included some big names of Goa like the Pastry Chef Shimjit Bhaskaran – Zuri White Sand Resort and Casino in Varca; Chef Sarita Chavan – Homeland Cuisine; Chef Abdullah Saeed – London Kitchen from Kuwait International Catering Company; Executive Chef Jerry Dias – Princess Cruise from UK; Pastry Chef Veronus  Braganza – Radisson Blue from Cavelossim; Laxmi Kunkolienkar – Proprietor of Kamaxi Foods; Sommelier John D'Souza; Bar Veteran Marlon Fernandes and Glen Dias of Bar Academy of Goa. Here again, Ujjwal won the Bake.Com Gold (Student Chef Bakery and Patisserie Excellence Challenge).
These victories and enthusiasm to progress in his area of expertise, Ujjwal has set a perfect example of focus, determination and to live your passion. He doesn't believe in living wild fantasies, but to get ahead with rigour and self-believe that one can achieve if you have the power and the vision to succeed. He is one young achiever who has his feet on the ground and a smart head on his shoulders. He knows what he is doing and already started to pend down his dream plan to become an out-of-the-box restauranteur. With the pace he is moving, he is going to achieve his goal real soon.
We, at Incredible Goa, wish him good luck in his endeavour.