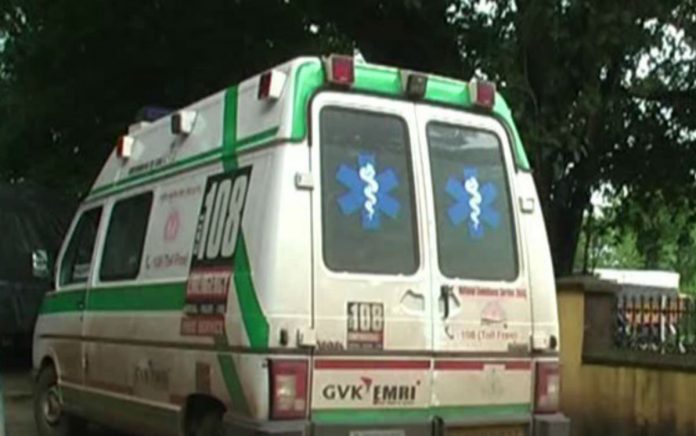 Despite several attempts to revamp the 108 ambulance services run by GVK EMRI in the State, lapses more often than not have lead to victims being denied immediate assistance and facing life-threatening risks. The recent case where an ambulance failed to turn up in time to attend to a youth who met with a motorcycle accident is a point in case.
The efficacy of the State's 108 ambulance services was brought into focus once again when on Sunday a youth who fractured his leg in a motorcycle accident at Miramar had to be sent to the hospital in a pick up as a 108 ambulance failed to show up for more than 15 minutes.  Several instances of this tardiness have been reported time and again, despite the State assurance to citizens that the services have been improved upon.
In 2017, According to a Times of India report, taking cognizance of the tardiness of 108 ambulance services, Health Minister Vishwajit Rane had reshuffled the management of these emergency services and 20 staffers were sacked on the spot after inspection for indiscipline.
The ambulance services in Goa, which are operated by GVK EMRI, were introduced by Vishwajit Rane during his earlier tenure in 2008. However, the services had deteriorated badly, not reaching in time or not reaching at all.  Once Rane took charge of the Health Ministry in 2017, his first priority was to revamp the failing 108 emergency ambulance services in the state.
According to the source, the minister had initiated streamlining the service by holding two rounds of meetings with the director of health services and other officials. Accordingly, in 2017 the Minister had set several measures in place to revamp services and make it more efficient. In 2018, GVK EMRI made a few additions including cardiac ambulances, VIP ambulances and motorcycle ambulances to provide quick medical services to the people.
According to the Herald, in 2017, Rane had spelled out a number of steps including making the service more responsive and introduction of 'medical audit' of the service to be conducted after every 15 days. He also asked for a report about patients attended and calls received on a daily basis.
"The ambulance service will be operated in a more efficient manner, and they (drivers and attendants) will have to respond to distress calls within 15-20 minutes and ensure that all accident prone areas are covered" he had told reporters, adding that "If a patient is not attended to within 15-20 minutes then the concerned people will have to give an explanation for the delay."
Training paramedics and bring back old paramedics, who already have training and experience, was another aspect.
According to this source, in 2018, the state government had extended the contract with GVK EMRI for another ten years from 2018 to 2028. 
Despite the fact that 108 has improved over the last two years, instances of this youth having to be shifted to hospital in a pickup in the face of 108 emergency not arriving on the spot even after 15 minutes points to a prevailing slack that needs to be rectified immediately, if the emergency services are to cater efficiently to the general public and tourists alike.
SOURCE: TOI | NAVHIND TIMES | HERALDO