Julia Kurian entered into the field of social work at a very early age, working her way up to eventually become the Managing Director of Goa's only Childcare NGO, El Shaddai. Today, El Shaddai takes care of thousands of children who are either homeless, orphaned or from unprivileged backgrounds.  Julia heads up a huge team of volunteers, teachers, educators and counsellors and she herself heads the School with custom-designed academics for the students. Here I will briefly take you through Julia's journey, where she faced obstacles but arrived at where she is today as a result of all this experience. 
Julia comes from Kerala and adds "I shifted to Goa in the year 1994 after getting married to Matthew who is the founder of El-Shaddai Foundation, a charitable trust, which is a non-profit NGO running homes & shelters for street children and orphans and committed to education of children in Goa," said Julia adding that she did not get much involved initially as she was focusing more on her own family planning. "In the year 1996, I had my first child. I started working in the school in 2000 after I witnessed the difficulties that the children were facing, and my husband Matthew had already established a school environment for them so I personally wanted to get into that side of things more."
"I was always there to lend a hand for any sort of task needed at the charity. I would cook for the children, cut their hair and all other small tasks I used to take on with no hesitation," said Julia adding that her primary concern was to finish the job without waiting for any sort of assistance. "It was in the initial stages then and we were facing a shortage of staff members." 
"Initially, I started looking after a group of 20 children. I cooked for them and did all other work any mother would do for their kids," she said. "We would also look after the orphans as well as the kids from poor families, and single parents who cannot afford to put their children through school," she added. The El-Shaddai has to comply with formalities before they admit any child into their school. "We always do background check of the parents to make sure that the information provided by them is correct," she said. 
According to  Julia, their education system is completely different from conventional study systems followed in other schools. "I feel that the children that come to us do not go to school as they find it difficult to cope with the teaching methods of the of formal schools as they are not quite accustomed to it and that prompted us to start the school for these children. We teach the kids using props like toys and other such creative methods to assist them in learning," said Julia.
"I created the syllabus with the other teachers. I had done some training in the UK and I also went to the Philippines and spent some time to see how their schools work and how they teach in creative ways." It was her idea to start school for underprivileged children. "The moment I came to Goa we started compiling our syllabus and curriculum utilising toys to teach Basic English, Maths and General knowledge with games and activities," she added. Julia, like many other people, is of the opinion that children remember more if they play while learning.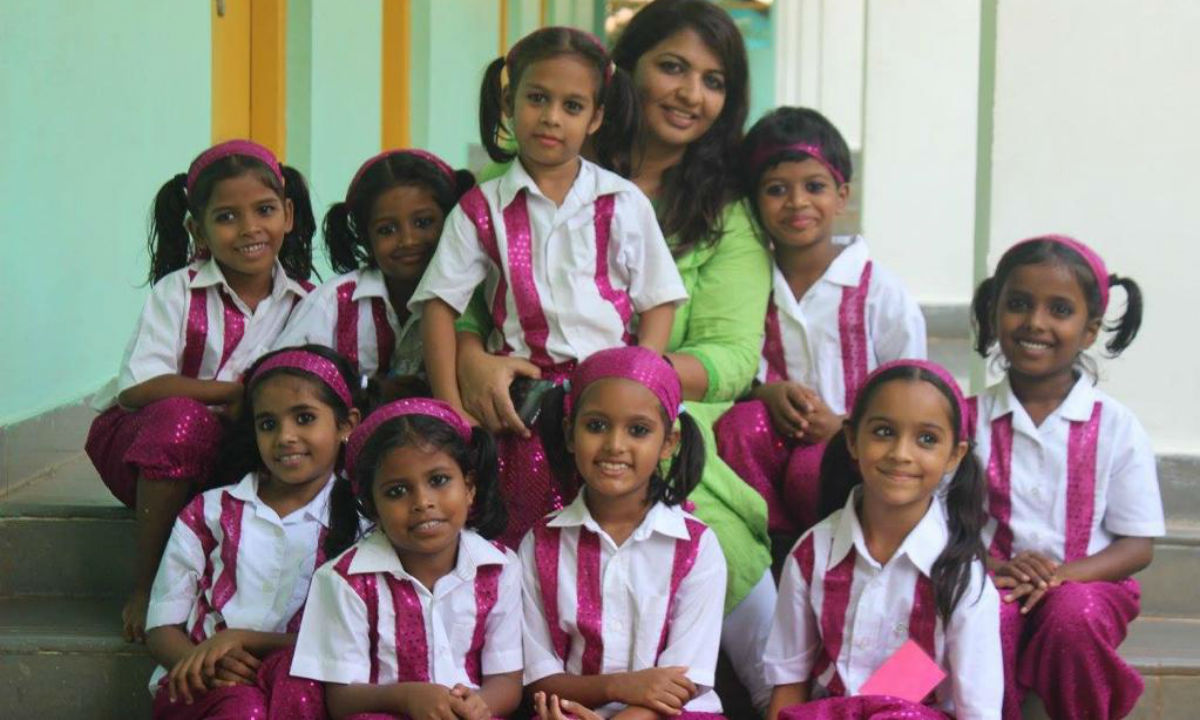 Julia managed her home and work life at the same time without any hassles. "The thing is that I never felt any problem in this sphere; as a matter of fact, I actually enjoyed every bit of it and working here. For me, it's always been an enthusiastic measure to start something of this nature even though I may have had my own commitments," she said.
The school that Julia runs does not have any age restrictions for the children. "We recruit on ability and that is why we do not have conventional classes and standards. We also have different class names, such as First Ups, New Creations, and Challengers and so on. This way the children shouldn't feel bought down by the regular structure of schooling and we branch away from the mainstream, thus setting a standard of our own," she said.
Some may disagree or have doubts about this method of teaching but you'll be surprised to learn that many of the children who were taught here are working in multinational companies and some even have their own business setups. Today Julia has more than 3000 students studying under the  El-Shaddai umbrella and they have a centre in every city across Goa.   
Julia states "there are many plans in the pipeline. We want to build more schools to impart education to more children. As of now, we have applied for an Open School, and they would be coming to visit us for an inspection soon. We would like to be based mainly in Goa but we have expanded to Karnataka, to influence others to take up this education method," said Julia.    
Julia wants to revolutionise the existing teaching system in the state and she is very positive that things will work out as the method which she uses in the school is the most effective. Julia's efforts will surely pay off and she will be able to empower more children from underprivileged society in times to come.