With the tourist peak season approaching, turtle nesting season too is on the verge. Turtle nesting has been one of the off-beat experiences one can look for in Goa. It has become a part of the Goan Eco-Tourism. Here's everything you need to know about turtle nesting in Goa.
Goa is blessed with beaches and the perfect climatic conditions for Olive Ridley turtles to visit every year to lay eggs. Luckily, the mating season lasts simultaneously with the tourist season which makes it possible for the tourist to take a look at the hatched turtle in the shore. Very little is known about why sea turtles nest on some beaches and not on others. In Goa, Beaches like Galgibaga, Agonda, and Morjim are known for turtle nesting. There are other places of sporadic nesting on Arambol beach, Ashvem, Anjuna, Kohlongutt-Candolim, Velsao, Colva, Benaulim, Betul, and Palolem beaches.
The nesting season is from November to March. Sometimes, it can also begin in the late end of January. Observing the turtles laying eggs and the little hatchlings rush to the sea is an incredible experience. Goa offers this under the eco-tourism as long as no harm is caused to the turtles.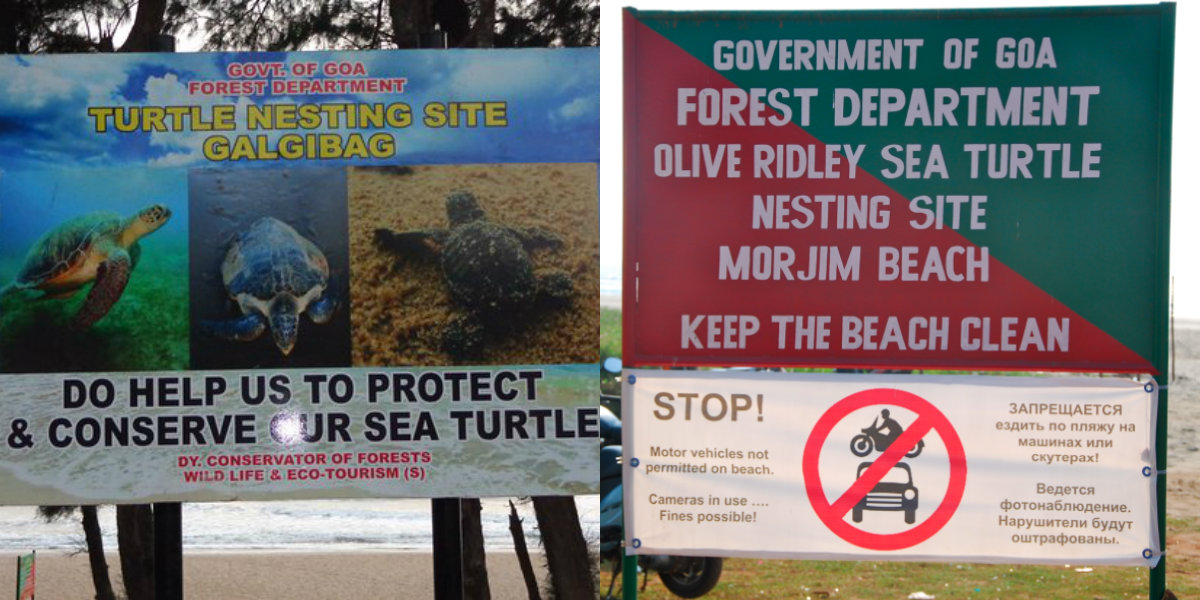 The whole process of turtle nesting is an interesting one! Only the female turtles lay eggs and choose one beach and return every time to nest there. The nesting often happens at night, wherein the female turtle crawls slowly to the shore and carefully pick a spot to nest. Sometimes, it so happens that she doesn't hatch. This may be a 'false crawl' or she might have been disturbed by any artificial light or presence of people around. This is why it is important to avoid any sort of light, firework or noise around these areas. She then forms a body pit in a dry part of the beach and lays eggs in the cavity. The average size of a clutch ranges from about 80 to 120 eggs, depending on the species. Once she has finished laying eggs, she closes the pit and thoroughly conceals it. Once she has left her nest, she never returns to tend it.
The hatchlings coming out of the sand and rushing to shore is a sight not to be missed! The incubation takes around 50 to 60 days and depends on the climatic conditions. The warmer the sand is, the more is the tendency to develop female ratio which also results in faster embryo development. Once hatched, the little turtles need to make it to the sea as soon as possible. Some die out of dehydration and some are eaten by the predators around. In some cases, the turtles die due to plastic or any garbage that they might have eaten on the way to the sea. Due to these reasons, the government has taken up strict measures not to litter around these areas and keep it clean.
It becomes very crucial to saving these creatures as they are endangering. There are many obstacles for the hatchlings while returning to the sea. Only 1 in every 1000 survives them. Conservationists have been working hard and are keeping an eye on these activities to facilitate smooth nesting for these turtles. Government too has come with strict guidelines for people who are interested to catch these sightings. If you are one of them, then these few tips would surely come in handy:
Refrain from using lights as these disturb the turtles and prevent them from nesting

Try and fill up any holes and knock down sandcastles. These help in better movement of the turtles and prevent them from falling inside pits.

Avoid the attraction of unwanted predators/pests. This can be done by avoiding any litter around as they attract nearby animals.

Do not interfere with the hatching process of the turtle. Try and maintain distance during this process because if disturbed the turtle withdraws from nesting.

Do not place any obstacle around these spots. Things like beach furniture, stalls or any sort of litter around will result as an obstacle.
The turtles look for desert beaches but due to the increase in tourist footfall, the visit from these endangered species has been decreased. The tourism department has taken initiatives to conserve and protect these turtles and their hatchings by restricting a side of the beach for the tourists and also laying down strict measures for the turtle hatchlings to be undisturbed. They have come up with eco-nests to protect the sites of eggs. We, as tourists also need to do our part to protect these creatures and enjoy nature's sightings from a distance. If planning for a trip to Goa around this season, be sure to catch up with this and enjoy them while being a responsible tourist.