When we think of a vacation in India, Goa is the first place that comes to mind. After all, this Star state has so much more to offer. From white sandy beaches to della adventure sports to mouthwatering cuisine, there is something for everyone. And because of Bollywood's massive fan base, celebrities rarely find a bit of relief and secrecy. 
How do they get away from everyday life? Through summer homes where few folks can escape. It's no surprise that celebs don't pass up the opportunity to explore this state. Are you interested to know about their trip to Goa? Here is a list of the accommodation where celebrities stay while on vacation in Goa.
Abhay Deol's Goa Residence
Abhay Deol's quest for a holiday home came to an end when he came over to the first plot he saw. His crystal home in Goa is set in the center of a forest. In the latest clip featuring a tour of his new house, the actor says his outline to the designers was simple: he wanted a home with no windows and only doors that open out to nature. And he just wants ceilings so high that if he glanced, he almost can not see the ceiling. Wow ! that sounds like a dream house.
Priyanka Chopra Jonas, Baga Beach
We're all aware that pop icon and our very own desi girl owns properties all over the world, including a lovely property in Goa.The only thing known about the house is that it is close to Baga Beach. The actress last visited with her cousin sister Parineeti Chopra and husband Nick Jonas in 2018. Her dream of having a beach house came true when she bought a home near Baga Beach in Goa. Before marrying Nick Jonas, the actress came here for a relaxing staycation with her friends and cousins, including Parineeti. Her Instagram posts show glimpses of the actress's stunning view amidst the tranquil scenery.
Akshay Kumar, White Sand Beach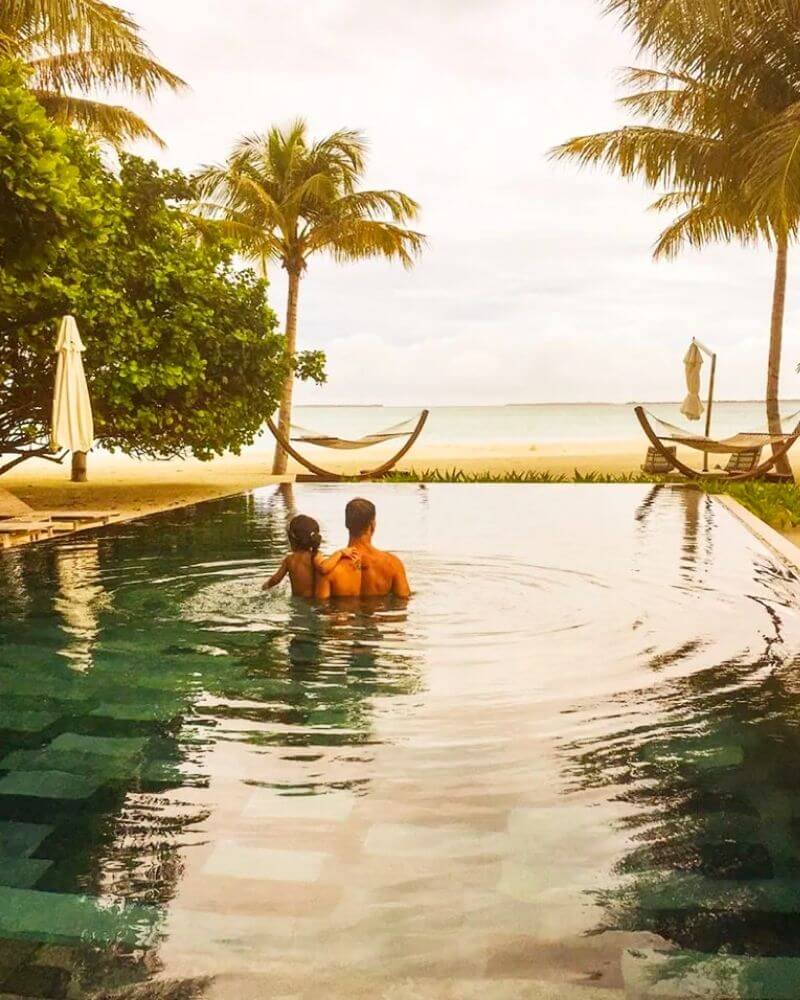 When Akshay Kumar needs to unwind from his hectic work schedule, he travels to the Sunshine State. "I enjoy visiting Goa." It's fantastic. It's very relaxed. Everyone knows who I am and just says hello, but no one bothers me in any way. "It's the only place in the country where I can roam around and have fun," he explained. The actor owns a property in the state worth Rs5 crore. Kumar fully embraces the susegad lifestyle in Goa. In Goa, Akshay Kumar owns an opulent paradise bungalow. This Portuguese-style villa is located on a beach with white sand. The actor enjoys long walks on the beach, relaxing in the pool, or swimming in the sea while watching the sunset.
Malaika and Arjun – Azara Beach House
Malaika and Arjun had a wonderful vacation in Goa, staying at Azara Beach House. This 6000 square feet built-up luxury villa is your sanctuary and escape from the hustle and bustle of city life, nestled in the quaint Goan town of Candolim and just 300 meters from the beach. It is a lavish and luxurious 5 BHK villa in Goa near Candolim Beach. The property is known as a true sanctuary, providing you with a relaxing experience. The actress adores Goa and makes it a point to visit at least once a year.
Pooja Bedi, Bardez
Pooja Bedi owns a lovely and artistic home in Goa. Pooja Bedi's fans were treated to glimpses of her lovely home via Twitter. Pooja Bedi, who is "glad to be back home in Goa," has been sharing photos of her artistic home in Bardez, North Goa. Pooja Bedi owns a lovely and artistic home in Goa, which exudes vintage charm and is surrounded by lush greenery. In an interview with The Times of India, the actress stated that she kept and restored the majority of the Portuguese-era home's features. The house has a large garden with many fruit trees and a stream that runs through it during the monsoon season.